Tea with Milk (Paperback)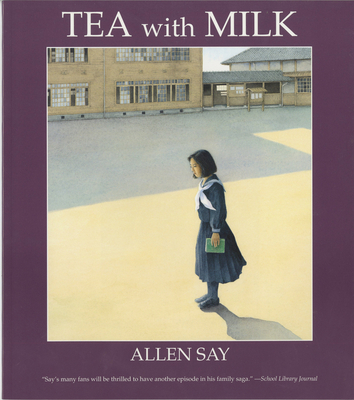 $7.99
Email or call for price.
Description
---
At home in San Francisco, May speaks Japanese and the family eats rice and miso soup and drinks green tea. When she visits her friends' homes, she eats fried chicken and spaghetti. May plans someday to go to college and live in an apartment of her own. But when her family moves back to Japan, she soon feels lost and homesick for America. In Japan everyone calls her by her Japanese name, Masako. She has to wear kimonos and sit on the floor. Poor May is sure that she will never feel at home in this country. Eventually May is expected to marry and a matchmaker is hired. Outraged at the thought, May sets out to find her own way in the big city of Osaka. With elegant watercolors reminiscent of Grandfather's Journey, Allen Say has created a moving tribute to his parents and their path to discovering where home really is. The accompanying story of his mother and her journey as a young woman is heartfelt. Tea with Milk vividly portrays and effectively captures the graceful formality of Japan.
About the Author
---
Allen Say was born in Yokohama, Japan, in 1937. He dreamed of becoming a cartoonist from the age of six, and, at age twelve, apprenticed himself to his favorite cartoonist, Noro Shinpei. For the next four years, Say learned to draw and paint under the direction of Noro, who has remained Say's mentor. Say illustrated his first children's book -- published in 1972 -- in a photo studio between shooting assignments. For years, Say continued writing and illustrating children's books on a part-time basis. But in 1987, while illustrating THE BOY OF THE THREE-YEAR NAP (Caldecott Honor Medal), he recaptured the joy he had known as a boy working in his master's studio. It was then that Say decided to make a full commitment to doing what he loves best: writing and illustrating children's books. Since then, he has written and illustrated many books, including TREE OF CRANES and GRANDFATHER'S JOURNEY, winner of the 1994 Caldecott Medal. He is a full-time writer and illustrator living in Portland, Oregon.
Praise For…
---
"Continuing to explore place and home, Say tells the story of his mother, first introduced to readers in TREE OF CRANES. Born in California to Japanese immigrants, Masako is miserable when she moves to Japan with her parents after high school. The illustrations capture Masako's unhappiness and also her eventual contentment as she learns to combine two cultures." Horn Book

In describing how his parents met, Say continues to explore the ways that differing cultures can harmonize; raised near San Francisco and known as May everywhere except at home, where she is Masako, the child who will grow up to be Say's mother becomes a misfit when her family moves back to Japan. Rebelling against attempts to force her into the mold of a traditional Japanese woman, she leaves for Osaka, finds work as a department store translator, and meets Joseph, a Chinese businessman who not only speaks English, but prefers tea with milk and sugar, and persuades her that ``home isn't a place or a building that's ready-made or waiting for you, in America or anywhere else.'' Painted with characteristic control and restraint, Say's illustrations, largely portraits, begin with a sepia view of a sullen child in a kimono, gradually take on distinct, subdued color, and end with a formal shot of the smiling young couple in Western dress. A stately cousin to Ina R. Friedman's How My Parents Learned To Eat (1984), also illustrated by Say.
Kirkus Reviews