Velocity (Hardcover)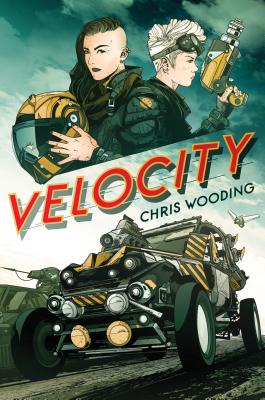 $18.99
Email or call for price.
Description
---
The Fast and the Furious meets The Hunger Games in acclaimed author Chris Wooding's blistering vision of the future.Buckle up for a fast-paced, high-octane thrill ride!Cassica and Shiara are best friends. They couldn't be more different, but their differences work to their advantage -- especially when they're drag racing. Cassica is fearless and determined, making her the perfect driver for daring, photo-finish victories. Shiara is intelligent and creative, able to build cars out of scrap and formulate daring strategies from the passenger's seat.Now they've set their sights on the Widowmaker -- the biggest, most anticipated, and most dangerous race of the year. The winners get a pass to a life of luxury and fame. The losers, more often than not, die in fiery explosions. And even if Cassica and Shiara survive the deadly three-day challenge... their friendship might be roadkill.This breathless reimagining of extreme sports is perfect for fans of Mad Max: Fury Road and NASCAR.
About the Author
---
Chris Wooding began writing at the age of 16, and his first novel, Crashing, was published when he was 19. Since that time, he's written dozens of novels in several genres, notably the award-winning The Haunting of Alaizabel Cray, Poison, Storm Thief, the Malice series, the graphic novel Pandemonium, Silver, and Velocity.
Praise For…
---
Praise for The Haunting of Alaizabel Cray :*"An imaginative tour de force." -- Publishers Weekly, starred review*"Eerie and exhilarating. -- School Library Journal, starred review*"Readers will get finger cramps from rapidly turning the pages of Wooding's gripping tale." -- Kirkus Reviews, starred reviewPraise for Poison:*"A compelling read. -- Kirkus Reviews, starred review"Each scene of danger sings with tension. Lovers of adventure, horror, and suspense should keep an eye on this talented author." -- Horn Book MagazinePraise for Storm Thief:*"This stunning work of speculative fiction will appeal to Wooding's fans and earn him new ones." -- Kirkus Reviews, starred reviewPraise for Silver:*"Wooding has morphed a traditional English boarding school story... into a horror/survival story that would make William Golding and Gary Paulsen envious... Carve out enough time to read Silver in a single sitting. You'll need it." -- Booklist, starred review

Praise for The Haunting of Alaizabel Cray :*"An imaginative tour de force." -- Publishers Weekly, starred review*"Eerie and exhilarating. -- School Library Journal, starred review*"Readers will get finger cramps from rapidly turning the pages of Wooding's gripping tale." -- Kirkus Reviews, starred reviewPraise for Poison:*"A compelling read. -- Kirkus Reviews, starred review"Each scene of danger sings with tension. Lovers of adventure, horror, and suspense should keep an eye on this talented author." -- Horn Book MagazinePraise for Storm Thief:*"This stunning work of speculative fiction will appeal to Wooding's fans and earn him new ones." -- Kirkus Reviews, starred reviewPraise for Silver:*"Wooding has morphed a traditional English boarding school story... into a horror/survival story that would make William Golding and Gary Paulsen envious... Carve out enough time to read Silver in a single sitting. You'll need it." -- Booklist, starred review