Inhuman (Paperback)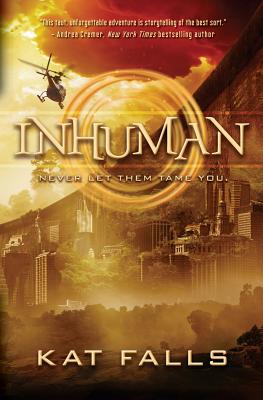 $9.99
Email or call for price.
Description
---
"This taut, unforgettable adventure is storytelling of the best sort." - Andrea Cremer, NYT Bestselling Author of NIGHTSHADEStep into the Feral Zone, where the stakes are high, the romance is steamy, and the dangers are unlike anything you've ever seen. . . .Lane McEvoy gets the shock of her life when she learns that someone she loves has crossed into the Feral Zone, the forbidden wilderness east of the Mississippi River. Few have dared set foot in the Zone since the devastating biological disaster that killed millions and left the survivors . . . changed. But now Lane has little choice. She travels east, completely unprepared for what she finds in the ruins of civilization . . . and afraid to learn whether her humanity will prove her greatest strength or a fatal weakness.In this bold and utterly original trilogy, acclaimed author Kat Falls brings you to the very edge of civilization and dares you to jump.
About the Author
---
Kat Falls is the author of Inhuman, Dark Life, and Rip Tide. A graduate of Rensselaer Polytechnic Institute, she holds an MFA in screenwriting from Northwestern University, where she now teaches. She lives in Illinois with her husband and three children.
Praise For…
---
"Readers will find themselves drawn into Lane's story through the author's consistent worldbuilding and striking turns of phrase. Lane is an appealing and credible protagonist; her progression from obsessive cleanliness to fearless engagement with the infected is subtle and believable. Sure to satisfy fans of the dystopian-romance genre and to gather new ones along the way." - KIRKUS, Starred Review"The animal hybrids are sometimes intriguing and sometimes terrifying (like the half-bat half-piranha weevlings) but are always compelling. . . . This is a perfectly plotted, deliciously suspenseful journey through a lush, intriguing society in which nothing is quite as it seems." - SCHOOL LIBRARY JOURNAL"Falls presents Lane as a competent, admirable heroine who more than holds her own. The setting holds great promise, and its dangers are quite entertaining. . . A solid start." - PUBLISHERS WEEKLY"Recommended for readers looking for a thrilling, page-turning read." - VOYA

"Readers will find themselves drawn into Lane's story through the author's consistent worldbuilding and striking turns of phrase. Lane is an appealing and credible protagonist; her progression from obsessive cleanliness to fearless engagement with the infected is subtle and believable. Sure to satisfy fans of the dystopian-romance genre and to gather new ones along the way." - KIRKUS, Starred Review"The animal hybrids are sometimes intriguing and sometimes terrifying (like the half-bat half-piranha weevlings) but are always compelling. . . . This is a perfectly plotted, deliciously suspenseful journey through a lush, intriguing society in which nothing is quite as it seems." - SCHOOL LIBRARY JOURNAL"Falls presents Lane as a competent, admirable heroine who more than holds her own. The setting holds great promise, and its dangers are quite entertaining. . . A solid start." - PUBLISHERS WEEKLY"Recommended for readers looking for a thrilling, page-turning read." - VOYA