Inhuman (Hardcover)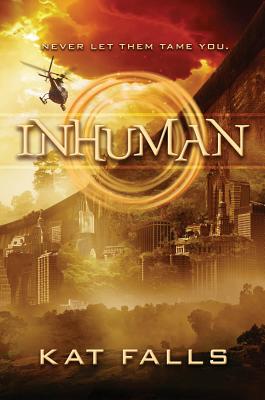 $17.99
Email or call for price.
Description
---
Never let them tame you.

In the wake of a devastating biological disaster, the United States east of the Mississippi has been abandoned. Now called the Feral Zone, a reference to the virus that turned millions of people into bloodthirsty savages, the entire area is off-limits. The punishment for violating the border is death.

Lane McEvoy can't imagine why anyone would risk it. She's grown up in the shadow of the great wall separating east from west, and she's curious about what's on the other side - but not that curious. Life in the west is safe and comfortable . . . just how she likes it.

But Lane gets the shock of her life when she learns that someone close to her has crossed into the Feral Zone. And she has little choice but to follow. Lane travels east, completely unprepared for what she finds in the ruins of civilization . . . and afraid to learn whether her humanity will prove her greatest strength or a fatal weakness.

Kat Falls brings you to the very edge of civilization and dares you to jump.
About the Author
---
Kat Falls is the author of Dark Life and its sequel, Rip Tide. A graduate of Rensselaer Polytechnic Institute, she holds an MFA in screenwriting from Northwestern University, where she now teaches. She lives in Illinois with her husband and three children.
Praise For…
---
Praise for DARK LIFE:
"There's no denying the nifty premise, solid characterization, and tense moments that contribute to a cinematic reading experience. Falls's undersea world warrants further exploration." - PUBLISHERS WEEKLY
"Falls creates an interesting reality in her new novel. . . . Based on the young ages of the characters, this book will appeal to middle grade readers, who will enjoy the novel's mystery and suspense. It is a definite must-read for SF fans." - VOICE OF YOUTH ADVOCATES
"A Western . . . with plankton instead of cows, harpoons instead of six-shooters and submarines instead of covered wagons . . . and a few plot twists keep the tension high. A thrilling conversion of the classics to one of our newer frontiers." - KIRKUS REVIEWS
"The exotic setting and well-conceived details about undersea living, along with likable characters and a minor surprise at the end, will keep readers turning the pages." - BOOKLIST
"Falls' (Rip Tide,2011, etc.) first novel for teens is the nail-biting start of a new trilogy.
Nineteen years ago, the deadly Ferae Naturae ("of a wild nature") virus killed 40 percent of America's population. Now, 16 year-old Lane McEvoy lives a safe, sterile life in the shadow of the Titan, a 700-foot-tall wall that extends from Canada to the Gulf of Mexico, separating the uninfected west from the Feral Zone to the east. Lane's life is turned upside down when the head of Biohazard Defense makes her an offer she can't afford to refuse. Director Spurling has evidence that Lane's father, Mack, is a "fetch," paid to retrieve valuables left behind during the exodus two decades before. Unless Lane locates her father so he can recover something the director has lost, Spurling will expose Mack's treason, and Lane will lose him to execution by firing squad. As she ventures into the Feral Zone, Lane picks up two unlikely allies: the enigmatic feral-hunter Rafe and the militant, by-the-book guard Everson. Readers will find themselves drawn into Lane's story through the author's consistent worldbuilding and striking turns of phrase. Lane is an appealing and credible protagonist; her progression from obsessive cleanliness to fearless engagement with the infected is subtle and believable.
Sure to satisfy fans of the dystopian-romance genre and to gather new ones along the way. " -
Kirkus
starred review