Dealing with Dragons: The Enchanted Forest Chronicles, Book One (Paperback)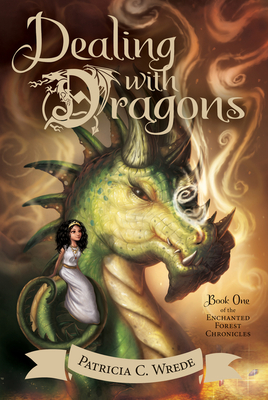 $7.99
Usually Ships in 1-5 Days
Other Books in Series
This is book number 1 in the Enchanted Forest Chronicles series.
Staff Reviews
---
The Enchanted Forest Chronicles are, well, enchanting! They feature a fairy-tale landscape with a few twists and turns, a princess who doesn't want to be a princess, dragons who are allergic to wizards, and a boy who doesn't know what he's supposed to do with a magic sword. This series of four books is clever, funny, and fun to read at any age!
— Kate
Description
---
Meet Princess Cimorene--a princess who refustes to be proper. She is everything a princess is not supposed to be: headstrong, tomobyish smart...
And bored.
So bored that she runs away to live with a dragon. And not just any dragon, but Kazul--one of the most powerful and dangerous dragons arounds. Of course, Cimorene has a way of hooking up with dangerous characters, and soon she's coping with a witch,a a jinn, a death-dealing talking bird, a stone prince, and some very oily wizards.
If this princess ran away to find some excitement, it looks like she's found plenty! With a new look and new introduction from the author.
About the Author
---
PATRICIA C. WREDE has written many novels, including Sorcery and Cecelia or The Enchanted Chocolate Pot and The Grand Tour coauthored with Caroline Stevermer, as well as the four books in her own series, the Enchanted Forest Chronicles. She lives near Minneapolis, Minnesota.
Praise For…
---
*"Full of excitement...and good humor. Wrede's delightful voice is all her own."--School Library Journal, starred review
*"What a charmer! A decidedly diverting novel with plenty of action and ...laugh-out-loud reading pleasure."--Booklist, starred review
"Ingenious fantasy."--Kirkus Reviews