The Silmarillion (Paperback)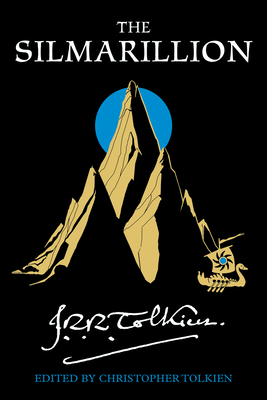 $14.95
Usually Ships in 1-5 Days
Description
---
"Majestic! . . . Readers of The Hobbit and The Lord of the Rings will find in The Silmarillion a cosmology to call their own, medieval romances, fierce fairy tales, and fiercer wars that ring with heraldic fury . . . It overwhelms the reader." — Time

The story of the creation of the world and of the First Age, this is the ancient drama to which the characters in The Lord of the Rings look back and in whose events some of them, such as Elrond and Galadriel, took part. The three Silmarils were jewels created by Fëanor, most gifted of the Elves. Within them was imprisoned the Light of the Two Trees of Valinor before the Trees themselves were destroyed by Morgoth, the first Dark Lord. Thereafter, the unsullied Light of Valinor lived on only in the Silmarils, but they were seized by Morgoth and set in his crown, which was guarded in the impenetrable fortress of Angband in the north of Middle-earth. The Silmarillion is the history of the rebellion of Fëanor and his kindred against the gods, their exile from Valinor and return to Middle-earth, and their war, hopeless despite all their heroism, against the great Enemy.

"A creation of singular beauty . . . magnificent in its best moments." — Washington Post

"Heart-lifting . . . a work of power, eloquence and noble vision . . . Superb!" — Wall Street Journal
About the Author
---
J.R.R. TOLKIEN (1892–1973) is the creator of Middle-earth and author of such classic and extraordinary works of fiction as The Hobbit, The Lord of the Rings, and The Silmarillion. His books have been translated into more than fifty languages and have sold many millions of copies worldwide.
CHRISTOPHER TOLKIEN is the third son of J.R.R. Tolkien. Appointed by Tolkien to be his literary executor, he has devoted himself to the editing and publication of unpublished writings, notably The Silmarillion, Unfinished Tales, and The History of Middle-earth.
Praise For…
---
"Majestic!... Readers of The Hobbit and The Lord of the Rings will find in The Silmarillion a cosmology top call their own, medievel romances, fierce fairy tales, and fiercer wars that ring with heraldic fury... It overwhelms the reader." Time Magazine

"Heart-lifting... a work of power, eloquence and noble vision... Superb!" The Wall Street Journal
Congratulations!
Our very own Marie Benedict is #7 on the New York Times Bestsellers List with her enchanting new novel,
The Only Woman in the Room.
Join us in congratulating Ms. Benedict and stop in for a signed copy of her novel!