Seriously Delish: 150 Recipes for People Who Totally Love Food (Hardcover)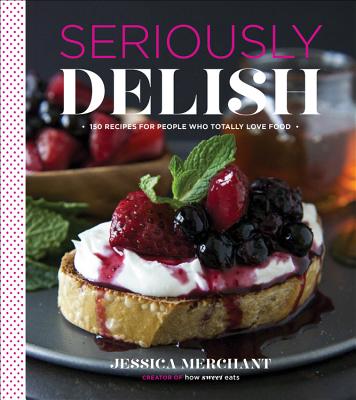 $29.99
Email or call for price.
Description
---
The eagerly awaited first cookbook from the wildly popular blog How Sweet Eats
Jessica Merchant, creator of the popular food blog How Sweet Eats, has now created her first cookbook,
Seriously Delish
. Her playfulness jumps off the page in her inventive and incredibly delicious recipes, such as Amaretto–Butternut Squash Soup with Cinnamon Toast Croutons, Mini Crab Cakes with Sweet Corn and Blueberry Salsa, and Fleur de Sel Caramel Bourbon Brownie Milk Shakes. Her sense of humor, which brings millions of visitors to her site, shows through in chapter titles like "Breakfast (. . . for Dinner?)" and "Salad, Soups, and Vegetable-like Things (Ugh, if We Must)." Merchant makes food that people get excited about, nothing run-of-the-mill or expected. As an added bonus, all of the photographs in the book were taken by Merchant herself, giving her cookbook the personal touch that her fans love and newcomers will appreciate.
Seriously Delish
features imaginative recipes that are tasty and original and bring readers to a place where cooking becomes adventurous and food becomes fun.
About the Author
---
JESSICA MERCHANT founded the popular food blog How Sweet Eats in 2009. A self-proclaimed food fanatic, she shares her ramblings with millions, creating a community on her site that brings in over 100,000 readers every day.
Praise For…
---
"As I slowly turned the pages of Jessica's glorious cookbook, I found that each section completely outdid the one before it. I wanted each and every sandwich, swooned over each and every salad, and the Tex-Mex section . . . well, it just about sent me over the edge. (And don't even get me started on the drinks and desserts! Wow.) Jessica's photos are absolutely mouthwatering, and her recipes lure you in to the point that you'll start making your grocery list immediately. I'll say it again: This is a glorious cookbook!"
—Ree Drummond, #1 NYT best-selling author of The Pioneer Woman Cooks "She had me at the gorgonzola slaw. . . . Jessica Merchant's cookbook, Seriously Delish, is my new dream food bible. It is fresh and easy—but more importantly it's fun and exciting; a celebration of how yummy life can be, three times a day."
—Elin Hilderbrand, author of The Matchmaker and Beautiful Day "I've always had the biggest blog crush on Jessica from How Sweet Eats. She's hilarious, a creative genius in the kitchen (I mean, banana macaroon smoothie, toasted sesame broccoli, parmesan-pistachio kale chips . . . yum!), and reading her book makes you feel like you're cooking with your BFF."
—Gina Homolka, creator of Skinnytaste.com "Seriously Delish is a love letter to all of Jessica Merchant's passionate readers. Decadent photos and recipes that make you want to run into the kitchen to cook! Witty and whimsical, Jessica creates a world of food, fun, and flair that keeps you laughing through her cookbook."
—Catherine McCord, founder of Weelicious.com "With this cookbook in my kitchen, it feels like I'm opening up a conversation with the best kind of friend; the friend who makes you cookies for breakfast and keeps you laughing along the way.  Seriously Delish is mouthwatering, practical, and hilarious, too!"
—Joy Wilson, Joy the Baker —