Gray Day: My Undercover Mission to Expose America's First Cyber Spy (Hardcover)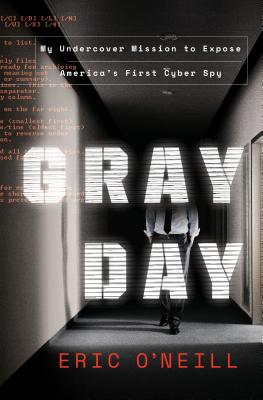 $27.00
Email or call for price.
Description
---
A cybersecurity expert and former FBI "ghost" tells the thrilling story of how he helped take down notorious FBI mole Robert Hanssen, the first Russian cyber spy.

"Both a real-life, tension-packed thriller and a persuasive argument for traditional intelligence work in the information age."—Bruce Schneier, New York Times bestselling author of Data and Goliath and Click Here to Kill Everybody

Eric O'Neill was only twenty-six when he was tapped for the case of a lifetime: a one-on-one undercover investigation of the FBI's top target, a man suspected of spying for the Russians for nearly two decades, giving up nuclear secrets, compromising intelligence, and betraying US assets. With zero training in face-to-face investigation, O'Neill found himself in a windowless, high-security office in the newly formed Information Assurance Section, tasked officially with helping the FBI secure its outdated computer system against hackers and spies—and unofficially with collecting evidence against his new boss, Robert Hanssen, an exacting and rage-prone veteran agent with a fondness for handguns. In the months that follow, O'Neill's self-esteem and young marriage unravel under the pressure of life in Room 9930, and he questions the very purpose of his mission. But as Hanssen outmaneuvers an intelligence community struggling to keep up with the new reality of cybersecurity, he also teaches O'Neill the game of spycraft. The student will just have to learn to outplay his teacher if he wants to win.
 
A tension-packed stew of power, paranoia, and psychological manipulation, Gray Day is also a cautionary tale of how the United States allowed Russia to become dominant in cyberespionage—and how we might begin to catch up.
About the Author
---
ERIC O'NEILL is a cybersecurity expert and former FBI counterterrorism and counterintelligence operative. He is the founder of the Georgetown Group, the premier investigative and security services firm; serves as national security strategist for Carbon Black; and is the General Counsel for Global Communities, an international charity. He lectures internationally about espionage and national security, cybersecurity, hacking and fraud, and corporate diligence and defense, and has appeared as a national security expert on CNN and Fox. His writing has appeared in the Boston Globe, The Hill, TechCrunch, and Mashable. O'Neill is a graduate of Auburn University and the George Washington University School of Law.
Praise For…
---
"Reads like a John le Carré spy novel . . . Gray Day is a book that keeps readers on the edge of their seat, and contains an important message about data security." —Galveston County Daily News

"Gray Day is a well-written and suspenseful story about an odd spy and the young man who helped take him down." —The Washington Times

"If Robert Ludlum spitballed an espionage story with a Russian hacker, they might have conjured up with something as wild and riveting as Gray Day. Except that this yarn, incredibly, is true. An enthralling spy tale that feels ever more relevant with each passing day."—Dave Howard, author of Chasing Phil: The Adventures of Two Undercover Agents with the World's Most Charming Con Man

"What job could possibly be twisty, mind-bending, and demanding than being an undercover spy in one of the FBI's own cybersecurity units? With resolute doggedness, shrewd psychological instincts, and the sheer guts to make critical split-second decisions, rookie agent Eric O'Neill helped to turn the tables on his own boss—one of the most dangerous traitors of our time. In Gray Day he weaves together his personal and professional stories with all the skills of a seasoned novelist. The result is a thrilling, page-turning brew worthy of Hollywood—only better because it's real."—Elisabeth Elo, author of Finding Katarina M.
 
"Gray Day is a fascinating read about catching infamous spymaster Robert Hanssen, who turned over classified materials to the Russians. You can't help but root for Eric as he tells his story of spying on the spymaster. I recommend this gripping book to all audiences, especially computer geeks and those interested in cybersecurity."—Kevin Mitnick, New York Times bestselling author of Ghost in the Wires and The Art of Invisiblity

"An adrenaline-laced memoir . . . as compulsively readable as any thriller. O'Neill has a knack for ratcheting up tension so that foregone historical conclusions, such as Hanssen's capture, feel like white-knuckle cliffhangers. . . . O'Neill's page-turner deglamorizes undercover work while conveying the uncertainty, stress, and excitement that accompany a successful investigation."—Publishers Weekly

"A taut and compelling real life thriller . . . part memoir, part true crime, this fast-paced work is recommended for anyone interested in cybersecurity, Cold War history, and espionage tales."—Library Journal

"O'Neill's narrative . . . is valuable in its exploration of the psychology of the traitor and his motivations as well as how spies like Hanssen so often enjoy success for as long as they do until finally caught: 'Amateurs may hack machines, but professionals hack people.' Fans of spy fiction and true crime will find plenty to enjoy in O'Neill's account."—Kirkus Reviews