Black Dog of Fate: A Memoir (Paperback)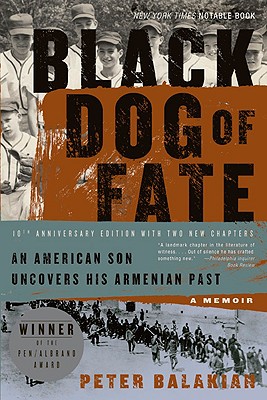 $17.99
Usually Ships in 1-5 Days
Description
---
In this tenth anniversary edition of his award-winning memoir,
New York Times
bestselling author Peter Balakian has expanded his compelling story about growing up in the baby-boom suburbs of the '50s and '60s and coming to understand what happened to his family in the first genocide of the twentieth century—the Ottoman Turkish government's extermination of more than one million Armenians in 1915.
In this new edition, Balakian continues his exploration of the Armenian Genocide with new chapters about his journey to Aleppo and his trip to the Der Zor desert of Syria in his pursuit of his grandmother's life, bringing us closer to the twentieth century's first genocide.
About the Author
---
Peter Balakian is the Donald M. and Constance H. Rebar Professor of the Humanities at Colgate University. He is the author of June-tree: New and Selected Poems 1974–2000 and The Burning Tigris, winner of the 2005 Raphael Lemkin Prize and a New York Times bestseller. He lives in Hamilton, New York.