War is Boring: Bored Stiff, Scared to Death in the World's Worst War Zones (Paperback)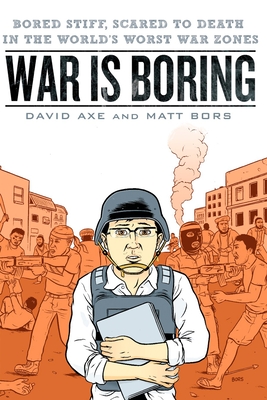 Description
---
Read David Axe's blogs and other content on the Penguin Community.The war memoir as graphic novel-an utterly unforgettable and highly original look at war in the 21st century.
Street battles with spears and arrows in sweltering East Timor. Bone- jarring artillery duels in Afghanistan's mountains. Long patrols on the sandy wastes of southern Iraq. For four years, war was life for David Axe. He was alternately bored out of his mind and completely terrified. It was strangely addictive.
As a correspondent for
The Washington Times
, C-SPAN and BBC Radio, Axe flew from conflict to conflict, reveling in death, danger, and destruction abroad while, back in D.C., his apartment gathered dust, his plants died, and his relationships withered. War reporting was physically, emotionally, and financially draining-and disillusioning. Loosely based on the web comic of the same name, with extensive new material,
War Is Boring
takes us to Lebanon and Somalia; to arms bazaars across the United States; to Detroit, as David tries to reconnect with his family-and to Chad, as David attempts to bring attention to the Darfur genocide.
Watch a Video
About the Author
---
David Axe is a journalist and author based in Washington, D.C. and Columbia, South Carolina whose blog, warisboring.com, gets over a thousand unique hits per day.
Matt Bors is an editorial cartoonist based in Portland, Oregon whose comic strips appear in newspapers across the country. To learn more about Matt or see more of his work, please visit his website.