Lisa, Bright and Dark (Mass Market)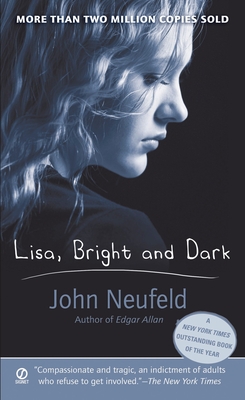 $5.99
Usually Ships in 1-5 Days
Description
---
Hailed as a "work of art" by the New York Times, this bestselling classic brings a deft touch and understanding spirit to the story of a teenage girl's descent into madness-and the three friends who are determined to walk with her where adults fear to tread.
About the Author
---
"I always wanted to be a writer. I started writing early, and badly, sending off short stories to national magazines when I was ten or eleven. They were all returned.
"But I kept at it. All through high school and college. Everything I sent out came back. Thanks but no thanks.
"I moved to New York and worked in a publishing house. I kept writing. In fact, I was fired from my first job for spending more time on my own projects than on the publishing house's.
"I wrote on.
"In 1968, an editor from a small California publishing house and I hadlunch. She gave me an outline for a story she thought I could write well. I knew immediately I had to try.
"But what I wanted to do was write a short book, full of emotion and detail and excitement, for readers of all ages. I didn't know that Edgar Allan would be regarded as a children's book."It was.
"And when it was, everything fell into place. The minute Edgar Allan was launched successfully, I sat down to write Lisa, Bright And Dark. It, too, was a success so there was no turning back.Although I do write books for adults, the ideas that stimulate me always seem to come to me in the form of a story for young readers. I get ideas from everywhere: from the newspapers, from radio, from lunches and talks I have with friends.
"Right now, if I never get another idea, I have more story lines to work on than my lifetime probably permits."
Both Edgar Allan and Lisa, Bright And Dark, were selected as among the Best Books of the Year by the New York Times. Lisa, Bright And Dark was filmed for television, and aired as a Hallmark Hall of Fame on NBC-TV. Mr. Neufeld's other books have as recently as this spring (2000) been cited as among the best of last year's Young Adult titles by the New York Public Library and YASLA.
Coverage from NPR