Sous Vide at Home: The Modern Technique for Perfectly Cooked Meals [A Cookbook] (Hardcover)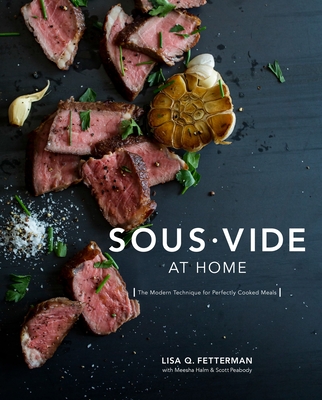 $35.00

Usually Ships in 1-5 Days
Description
---
A beginner's guide to sous vide, which has been a popular cooking technique in restaurants for years, offering tender and succulent dishes cooked to perfection.

Now, from the creator of Nomiku—the first affordable sous vide machine—comes this easy-to-follow cookbook that clearly illustrates how to harness the power of sous vide technology to achieve restaurant-quality dishes in the comfort of your own kitchen. Discover the stress-free way to cook a delicious (and never dry!) Thanksgiving turkey along with all the trimmings, classics like Perfect Sous Vide Steak and Duck Confit, and next-level appetizers like Deep Fried Egg Yolks.

Including over 100 recipes for everything from Halibut Tostadas, Grilled Asparagus with Romesco, and Chicken Tikka Masala, to Dulce de Leche, Hassle-Free Vanilla Ice Cream, and even homemade Coffee-Cardamom Bitters, Sous Vide at Home has you covered for every occasion.
About the Author
---
Lisa Q. Fetterman is the founder and CEO of Nomiku, makers of the first home immersion circulator and the author of Sous Vide Made Simple. She has been featured in Wired, MAKE, and Forbes, and was named on both Forbes' and Zagat Survey's 30 Under 30 lists for her pioneering work in the food space. Lisa earned a BA in Journalism from NYU and honed her culinary sensibilities working at some of the top restaurants in the country, including Babbo, Jean-Georges, and Saison. 
 
Scott Peabody is a professional chef with more than a decade and a half of experience. He attended the Culinary Institute of America in Hyde Park before cutting his teeth in New York City, toiling in the kitchens of renowned chefs Jean-Georges Vongerichten and Thomas Keller, where he was initiated into the mysteries of sous vide cooking. Scott provided the recipes and culinary direction for Sous Vide Made Simple as well as Sous Vide at Home.

Meesha Halm is a content strategist, cookbook whisperer, and digital storyteller. She is the author of more than 20 restaurant guides and cookbooks including The Balsamic Vinegar Cookbook and Savoring the Wine Country, and she is a co-author of Sous Vide Made Simple. She's served as a local editor for Zagat Survey, video producer for Tastemade, and cookbook editor at Collins. Her writing and videos have appeared on The Food Network, Tasting Table, Zagat, Michelin, Bravo, and Tastemade.
Praise For…
---
"Food has changed. Cooking has changed. Now we must choose our guides to show us the new ways of creating fantastic meals, and one of my favorite guides is the visionary Lisa Fetterman, who has such dynamic zeal for the act of cooking that it is hard not to follow her ebullient lead. Sous Vide at Home gives every home cook the techniques and recipes they need to revolutionize the way they make food."
—Hugh Acheson, author of A New Turn in the South and chef/owner of Five & Ten, Empire State South, The National, and The Florence
 
"Lisa is an obsessive visionary who just wants to make the modern world a tastier, inspired place. As a curious home cook turned neurotic chef, bringing professional techniques into the home kitchen is always a thrill. The ability to cook sous vide with an immersion circulator on and off the clock excites me to no end!"
—Christina Tosi, chef/founder/owner of Milk Bar

"Lisa has taken what is viewed as the chef's trick and turned it into another great tool for the home cook. With great recipes and easy to follow instructions, Sous Vide at Home will make Nomiku the new crockpot."
—Chris Cosentino, Top Chef Masters winner and chef/owner of Cockscomb
 
"Sous Vide at Home is a welcome introduction to the most important kitchen innovation of recent times: precise low-temperature cooking, which makes it easier than ever for chefs and home cooks alike to get consistently delicious results."
—Harold McGee, author of On Food and Cooking
 
"A great compendium of delicious techniques culled from restaurant innovation and brought to the home in a fashion that simplifies cooking a meal rather than complicating it."
—Lars Williams, research and development chef at noma

"This is a terrific introduction to one of the most popular new cooking tools, and a fine accompaniment to the appliance."
—Publishers Weekly

"Any chef worth her kosher salt will tell you that sous vide (or, cooking vacuum-sealed food in a water bath at a controlled temperature) is a miracle technique and easier than you think. Lisa Fetterman's book makes the technique remarkably approachable with recipes that would be interesting and worthwhile even if sous vide didn't make them easy enough to make in your sleep." 
—Susan T Chang, NPR