Fat Kid Rules the World (Hardcover)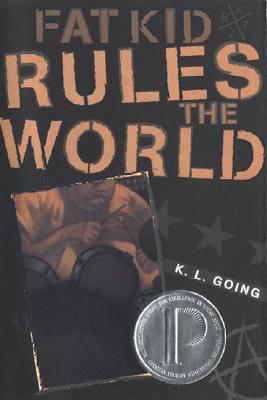 Description
---
Troy Billings at 6'1," 296 pounds, is standing at the edge of a subway platform seriously contemplating suicide when he meets Curt MacCrae -a sage-like, semi-homeless punk guitar genius who also happens to be a drop-out legend at Troy's school on the Lower East Side of Manhattan.
"I saved your life. You owe me lunch," Curt tells Troy, and Troy can't imagine refusing; after all, think of the headline: FAT KID ARGUES WITH PIECE OF TWINE.
But with Curt, Troy gets more than he bargained for and soon finds himself recruited as Curt's drummer. "We'll be called Rage/Tectonic. Sort of a punk rock, Clash sort of thing," Curt informs him.
There's only one problem. Troy can't play the drums. Oh yes, and his father thinks Curt's a drug addict. And his brother thinks Troy's a loser. But with Curt, anything is possible. "You'll see," says Curt. "We're going to be HUGE."
In an outstanding, funny, edgy debut, K. L. Going presents two unlikely friends who ultimately save each other.
About the Author
---
K. L. Going lives with her family in the Hudson Valley area of New York State. Since graduating from college she has worked as an adult literacy tutor, a ticket agent for a major airline, a front desk clerk at a resort hotel, and an assistant in a Manhattan literary agency. She has lived in Maine, Oregon, Pennsylvania, Louisiana and New York. K.L. is the author of many books, including "Fat Kid Rules The World," "The Liberation of Gabriel King," and "Dog in Charge." Her first novel, "Fat Kid Rules the World," was a YALSA Michael L. Printz honor book.