The Fatal Shore: The epic of Australia's founding (Paperback)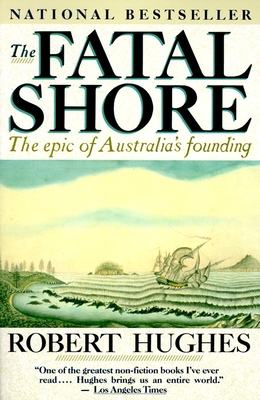 $24.95
Email or call for price.
Description
---
NATIONAL BESTSELLER • This incredible true history of the colonization of Australia explores how the convict transportation system created the country we know today.

"One of the greatest non-fiction books I've ever read ... Hughes brings us an entire world." —Los Angeles Times

Digging deep into the dark history of England's infamous efforts to move 160,000 men and women thousands of miles to the other side of the world in the eighteenth and nineteenth centuries, Hughes has crafted a groundbreaking, definitive account of the settling of Australia.

Tracing the European presence in Australia from early explorations through the rise and fall of the penal colonies, and featuring 16 pages of illustrations and 3 maps, The Fatal Shore brings to life the history of the country we thought we knew.
About the Author
---
Robert Hughes was born in Australia in 1938. In 1970, he moved to the United States to become chief art critic for Time, a position he held until 2001. His books include The Shock of the New, The Fatal Shore, Nothing if Not Critical, The Culture of Complaint, Barcelona, American Visions, A Jerk on One End, Goya, Things I Didn't Know, and Rome.  He is a New York Public Library Literary Lion and was the recipient of a number of literary awards and prizes, including two Frank Jewell-Mather Awards. He is widely held as the most respected art critic of our time.
Praise For…
---
"One of the greatest non-fiction books I've ever read . . . Hughes brings us an entire world." —Los Angeles Times

"A great achievement: Hughes has a story to tell as vivid, large-scale, and appalling as anything by Dickens or Solzhenitsyn, but one that's virtually unknown—until the writing of this splendid book." —Susan Sontag

"Engrossing . . . richly peopled with bizarre and compelling characters." —The New York Times Book Review

"A magnificent history, with a richness of detail that is as mesmerizing as it is horrifying. . . . It is both passionate and compassionate." —The Washington Post Book World

"Splendid . . . Robert Hughes combines the narrative skills of the authors of Mutiny on the Bounty with the sharp eye of de Tocqueville." —Gorde Vidal

"A brilliant and enduring achievement . . . history of the highest order combining thorough research with vivid narrative and thoughtful assessment." —Arthur M. Schlesinger