Naming Nature: The Clash Between Instinct and Science (Hardcover)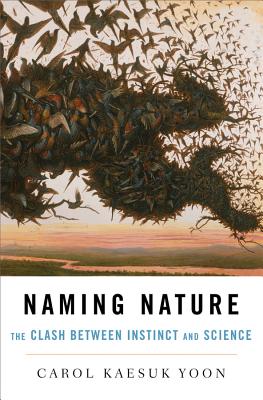 Description
---
Finalist for the 2009 Los Angeles Times Book Prize in Science and Technology: the surprising, untold story about the poetic and deeply human (cognitive) capacity to name the natural world.
Two hundred and fifty years ago, the Swedish botanist Carl Linnaeus set out to order and name the entire living world and ended up founding a science: the field of scientific classification, or taxonomy. Yet, in spite of Linnaeus's pioneering work and the genius of those who followed him, from Darwin to E. O. Wilson, taxonomy went from being revered as one of the most significant of intellectual pursuits to being largely ignored. Today, taxonomy is viewed by many as an outdated field, one nearly irrelevant to the rest of science and of even less interest to the rest of the world.
Now, as Carol Kaesuk Yoon, biologist and longtime science writer for the
New York Times
, reminds us in
Naming Nature
, taxonomy is critically important, because it turns out to be much more than mere science. It is also the latest incarnation of a long-unrecognized human practice that has gone on across the globe, in every culture, in every language since before time: the deeply human act of ordering and naming the living world.
In
Naming Nature
, Yoon takes us on a guided tour of science's brilliant, if sometimes misguided, attempts to order and name the overwhelming diversity of earth's living things. We follow a trail of scattered clues that reveals taxonomy's real origins in humanity's distant past. Yoon's journey brings us from New Guinea tribesmen who call a giant bird a mammal to the trials and tribulations of patients with a curious form of brain damage that causes them to be unable to distinguish among living things.
Finally, Yoon shows us how the reclaiming of taxonomy—a renewed interest in learning the kinds and names of things around us—will rekindle humanity's dwindling connection with wild nature. Naming Nature has much to tell us, not only about how scientists create a science but also about how the progress of science can alter the expression of our own human nature.
About the Author
---
Carol Kaesuk Yoon received her Ph.D. PhD in ecology and evolutionary biology from Cornell University and has been writing about biology for The New York Times since 1992. Her articles have also appeared in Science, The Washington Post, and the Los Angeles Times. Dr. Yoon has taught writing as a Visiting Scholar at Cornell University's John S. Knight Writing Program, working with professors to help teach critical thinking in biology classes. She has also served as a science education consultant to Microsoft. She lives in Bellingham, Washington.
Praise For…
---
Impossible to put down.
— Booklist

Brightly blending scientific expertise with personal experience, Yoon is an outstanding science writer who takes a seemingly dull topic and rivets unsuspecting readers to the page.
— Kirkus Reviews

Evolutionary biologist Carol Kaesuk Yoon makes the case for looking, touching, listening, making our own imperfect sense of the marvels that surround us. Like Darwin, Yoon can find the beauty in a barnacle, and her book—lush with biology, biography, and folklore—is a sensuous delight to read.
— Cathleen Medwick - O Magazine

Starred Review. Yoon's invitation for laypeople to reclaim their umwelt, to 'take one step closer to the living world' and accept as valid the 'wondrous variety in the ordering of life' is optimistic, exhilarating, and revolutionary.

— Publishers Weekly