Biography of a Germ (Paperback)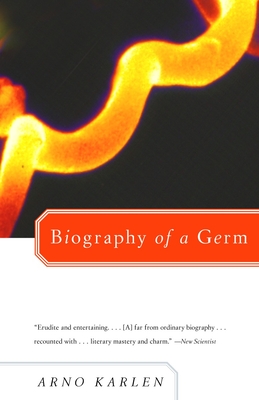 $14.00
Email or call for price.
Description
---
Arno Karlen, author of Man and Microbes, focuses on a single bacterium in Biography of a Germ, giving us an intimate view of a life that has been shaped by and is in turn transforming our own.

Borrelia burgdorferi is the germ that causes Lyme disease. In existence for some hundred million years, it was discovered only recently. Exploring its evolution, its daily existence, and its journey from ticks to mice to deer to humans, Karlen lucidly examines the life and world of this recently prominent germ. He also describes how it attacks the human body, and how by changing the environment, people are now much more likely to come into contact with it. Charming and thorough and smart, this book is a wonderfully written biography of your not so typical biographical subject.
About the Author
---
Arno Karlen, Ph.D., a pschoanalyst, has written widely on history and biomedical science. He is the author of Napoleon's Glands and Other Ventures in Biohistory and Man and Microbes: Diseases and Plauges in History and Modern Times. He lives in New York City.
Praise For…
---
"Anro Karlen has written an elegant book that revives an old form: the biographical essay. In the spirit of Dr. Lewis Thomas, he humanizes the story of a germ while entertaining the reader with wonderfully digressive lore on history, biography, the environment, and the way humans imprint themselves on the natural landscape."
-- James Atlas, author of Delmore Schwartz: The Life of an American Poet