Thunderstruck & Other Stories (Hardcover)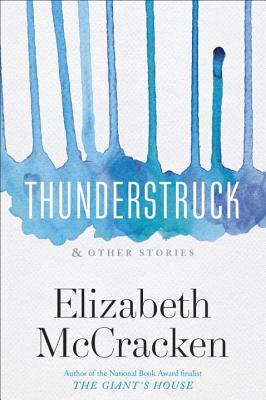 Description
---
WINNER OF THE STORY PRIZE LONGLISTED FOR THE NATIONAL BOOK AWARD NAMED ONE OF THE TEN BEST BOOKS OF THE YEAR BY NEWSDAY

NAMED ONE OF THE BEST BOOKS OF THE YEAR BY
The Washington Post San Francisco Chronicle O: The Oprah Magazine The Miami Herald Publishers Weekly Kirkus Reviews

From the author of the beloved novel The Giant's House finalist for the National Book Award comes a beautiful new story collection, her first in twenty years. Laced through with the humor, the empathy, and the rare and magical descriptive powers that have led Elizabeth McCracken's fiction to be hailed as exquisite (The New York Times Book Review), funny and heartbreaking (The Boston Globe), and a true marvel (San Francisco Chronicle), these nine vibrant stories navigate the fragile space between love and loneliness. In Property, selected by Geraldine Brooks for The Best American Short Stories, a young scholar, grieving the sudden death of his wife, decides to refurbish the Maine rental house they were to share together by removing his landlord's possessions. In Peter Elroy: A Documentary by Ian Casey, the household of a successful filmmaker is visited years later by his famous first subject, whose trust he betrayed. In The Lost & Found Department of Greater Boston, the manager of a grocery store becomes fixated on the famous case of a missing local woman, and on the fate of the teenage son she left behind. And in the unforgettable title story, a family makes a quixotic decision to flee to Paris for a summer, only to find their lives altered in an unimaginable way by their teenage daughter's risky behavior.
In Elizabeth McCracken's universe, heartache is always interwoven with strange, charmed moments of joy an unexpected conversation with small children, the gift of a parrot with a bad French accent that remind us of the wonder and mystery of being alive. Thunderstruck & Other Stories shows this inimitable writer working at the full height of her powers.
Praise for Thunderstruck & Other Stories
Restorative, unforgettable. . . apowerful testament to the scratchy humor and warm intelligence of McCracken's writing. Sylvia Brownrigg, The New York Times Book Review (Editor's Choice)
A] bewitching and wise collection . . . playful, even joyful. O: The Oprah Magazine

Stunningly beautiful . . . brilliantly moving . . . Moments of joy and pure magic flicker and pitch-perfect humor acts as a furtive SOS signal through the fog of loss. Los Angeles Times
Each of Thunderstruck's nine stories is a storm: delightful and destructive, packed with electricity, fascinating to watch unfold. Salon
The stories here are brilliant, funny and heartbreaking. . . . Elizabeth McCracken is a national treasure. Paul Harding, The Wall Street Journal

Pure delight: one lyrical, impeccably constructed sentence after another. Chicago Tribune

Beautifully wrought . . . As painstaking as a watchmaker, McCracken disassembles life down to its smallest parts. The Boston Globe
The psychological punches McCracken delivers, with her keen sense of irony and mordant humor, are unforgettable. The Miami Herald
About the Author
---
Elizabeth McCracken is the author of An Exact Replica of a Figment of My Imagination, The Giant s House, Here s Your Hat What s Your Hurry, and Niagara Falls All Over Again. A former public librarian, she is now a faculty member at the University of Texas, Austin, and has received grants and awards from numerous organizations, including the American Academy of Arts and Letters, the Guggenheim Foundation, the Radcliffe Institute for Advanced Study, and the American Academy in Berlin. Elizabeth is married to the novelist and illustrator Edward Carey."
Praise For…
---
Advance praise for Thunderstruck & Other Stories
 
"Elizabeth McCracken is one of my favorite writers. Or, to put it another way: I've read everything she's written . . . and there's nothing I haven't liked and admired enormously. . . . She writes with acuity, soul, and a kind of easy grace that probably kills her, about characters she has created to love. . . . 'Thunderstruck' showcases all the things this remarkable writer is so good at: the eccentric but illuminating metaphors, the deft characterization, the heart-lurching narrative development, the tenderness, the fantastic aphorisms. . . . Anything new by her is an excuse for wild, drunken celebration." —Nick Hornby, The Believer
 
"McCracken writes gorgeously sharp and insistent prose; her stories dazzle, uniquely angled and original."—More

"[Elizabeth McCracken] writes sentences so beautiful you'll want to stand up and applaud. I underlined so many phrases and details my copy is a mess, but that still didn't keep me from lending it to my best friend. . . . McCracken's revelatory prose style makes it impossible for even the bleakest story lines to feel like anything short of a blessing."—Cosmopolitan

"There's a strange magic . . . in Elizabeth McCracken's work."—Reader's Digest

"Magnetic . . . Anyone who enjoys short fiction will find pleasure and substance in McCracken's witty, world-wise collection."—Library Journal

"[Elizabeth] McCracken's short stories are like no others. Her distinctive voice, her slightly askew manner of looking at the world, her mix of mordant humor and tenderness, her sense of life's ironies, and the jolt of electricity at the end of each tale make her work arresting and memorable. . . . Readers will enjoy reading them twice—the first time quickly, because the plots are mesmerizing and strange, and the second to relish the dozens of images, aperçus, and descriptions. . . . McCracken transforms life's dead ends into transformational visions."—Publishers Weekly (starred review)

"Marvelously quirky, ironic, but, most of all, poignant . . . McCracken paints [her characters] with such rich detail that it feels as if we must know them."—Booklist
 
"Elizabeth McCracken's magnificent stories are in a category all their own. They tremble with life, quake with heart-rending emotion, shine with wicked humor, and linger with a beautiful urgency. Thunderstruck & Other Stories is a stunning collection, a powerhouse of invention and heart and rare, buoyant curiosity."—Bret Anthony Johnston, author of Remember Me Like This
 
"It's rare for title and book to work so well, in fact so perfectly, together. In this vibrant, darkly funny, deeply tender collection, the reader is thunderstruck, again and again, by Elizabeth McCracken's endless gifts of plot, prose and insight that is as compassionate and sharp as one can bear."—Amy Bloom, bestselling author of Where the God of Love Hangs Out and Away
Congratulations!
Our very own Marie Benedict is #7 on the New York Times Bestsellers List with her enchanting new novel,
The Only Woman in the Room.
Join us in congratulating Ms. Benedict and stop in for a signed copy of her novel!