Whittington (Hardcover)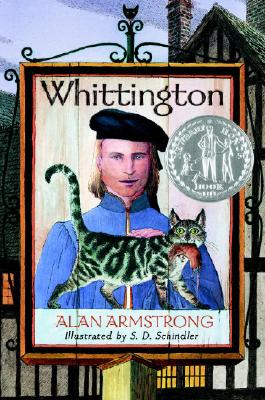 $14.95
Email or call for price.
Description
---
The power of reading is beautifully captured in this 2006 Newbery Honor-winning book.
Bernie keeps a barn full of animals the rest of the world has no use for–two retired trotters, a rooster, some banty hens, and a Muscovy duck with clipped wings who calls herself The Lady. When the cat called Whittington shows up one day, it is to the Lady that he makes an appeal to secure a place in the barn. The Lady's a little hesitant at first, but when the cat claims to be a master ratter, that clinches it.
Bernie' s orphaned grandkids, Abby and Ben, come to the barn every day to help feed the animals. Abby shares her worry that Ben can't really read yet and that he refuses to go to Special Ed. Whittington and the Lady decide that Abby should give Ben reading lessons in the barn. It is a balm for Ben when, having toughed out the daily lesson, Whittington comes to tell, in tantalizing installments, the story handed down to him from his nameless forebearer, Dick Whittington's cat–the legend of the lad born into poverty in rural England during the Black Death, who runs away to London to seek his fortune. This is an unforgettable tale about how learning to read saves one little boy. It is about the healing, transcendent power of storytelling and how, if you have loved ones surrounding you and good stories to tell, to listen to, and to read, you have just about everything of value in this world.
About the Author
---
Alan Armstrong started volunteering in a friend's bookshop when he was eight. At 14, he was selling books at Brentano's. As an adult, every so often, he takes to the road in a VW bus named Zora to peddle used books. He is the editor of "Forget Not Mee & My Garden," a collection of the letters of Peter Collinson, the 18th-century mercer and amateur botanist. He lives with his wife, Martha, a painter, in Massachusetts.
Praise For…
---
"This superior novel interweaves animal fantasy and family story with a retelling of the English folktale "Dick Whittington and His Cat." Teachers and librarians…take note: Whittington reads aloud beautifully, and the extended happy ending will leave everyone smiling in delight." --School Library Journal, starred