If Not, Winter: Fragments of Sappho (Vintage Contemporaries) (Paperback)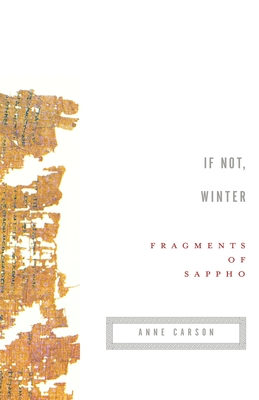 $16.95
Usually Ships in 1-5 Days
Description
---
By combining the ancient mysteries of Sappho with the contemporary wizardry of one of our most fearless and original poets, If Not, Winter provides a tantalizing window onto the genius of a woman whose lyric power spans millennia. 

Of the nine books of lyrics the ancient Greek poet Sappho is said to have composed, only one poem has survived complete. The rest are fragments. In this miraculous new translation, acclaimed poet and classicist Anne Carson presents all of Sappho's fragments, in Greek and in English, as if on the ragged scraps of papyrus that preserve them, inviting a thrill of discovery and conjecture that can be described only as electric—or, to use Sappho's words, as "thin fire . . . racing under skin." 

"Sappho's verse has been elevated to new heights in [this] gorgeous translation." --The New York Times

"Carson is in many ways [Sappho's] ideal translator....Her command of language is hones to a perfect edge and her approach to the text, respectful yet imaginative, results in verse that lets Sappho shine forth." --Los Angeles Times 
About the Author
---
ANNE CARSON was born in Canada and has been a professor of Classics for over thirty years. Her awards and honors include the Lannan Award, the Pushcart Prize, the Griffin Trust Award for Excellence in Poetry, and fellowships from the Guggenheim and MacArthur Foundations.
Praise For…
---
"[Sappho's] verse has been elevated to new heights in [this] gorgeous translation." —The New York Times

"This Sappho is whispering in our ear in a language we can understand." —Time Out New York

"Carson is in many ways [Sappho's] ideal translator. . . . Her command of language is honed to a perfect edge and her approach to the text, respectful yet imaginative, results in verse that lets Sappho shine forth." —Los Angeles Times

"A selfless, faithful, and boldly delicate achievement." —Boston Review




Congratulations!
Our very own Marie Benedict is #7 on the New York Times Bestsellers List with her enchanting new novel,
The Only Woman in the Room.
Join us in congratulating Ms. Benedict and stop in for a signed copy of her novel!