The Bohemians: The Lovers Who Led Germany's Resistance Against the Nazis (Paperback)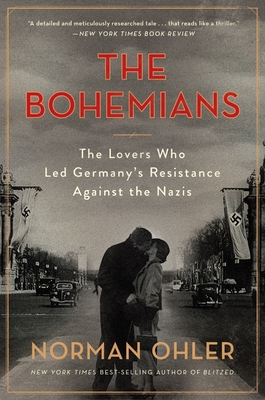 $16.99

Usually Ships in 1-5 Days
Description
---
"A story of love, incredible bravery and self-sacrifice . . . brilliantly told."—Antony Beevor, New York Times best-selling author of The Fall of Berlin 1945, The Second World War, and D-Day
 
"A taut, absorbing tale of anti-Nazi resistance."—Kirkus Reviews

Harro Schulze-Boysen already had shed blood in the fight against Nazism by the time he and Libertas Haas-Heye began their whirlwind romance. She joined the cause, and soon the two lovers were leading a network of anti-fascist fighters that stretched across Berlin's bohemian underworld. But nothing could prepare Harro and Libertas for the betrayals they would suffer in this war of secrets—a struggle in which friend could be indistinguishable from foe. Drawing on unpublished diaries, letters, and Gestapo files, Norman Ohler spins an unforgettable tale of love, heroism, and sacrifice in The Bohemians.
 
 
About the Author
---
NORMAN OHLER is an award-winning novelist, screenwriter, and journalist. He is the author of the New York Times bestseller Blitzed, as well as the novels Die Quotenmaschine (the world's first hypertext novel), Mitte, and Stadt des Goldes (translated into English as Ponte City). He was cowriter of the script for Wim Wenders's film Palermo Shooting. He lives in Berlin.
Praise For…
---
"The Bohemians is an astonishing story of the anti-Nazi resistance—a story of love, incredible bravery and self-sacrifice, which could end only in death—and it is brilliantly told."—Antony Beevor, New York Times best-selling author of The Fall of Berlin 1945,The Second World War, and D-Day "An unforgettable portrait of two young lovers and their circle of friends in the anti-Hitler resistance, The Bohemians offers a fascinating glimpse of life in Nazi Germany, where the simple self-assertion of youth was a political act, and daily life was a minefield where missteps could have fatal consequences."—Joseph Kanon, New York Times best-selling author of Leaving Berlin and The Good German "A thrilling and urgent true story. Inside Nazi Germany, as tyranny spreads, a few friends decide to resist, and a secret circle of anti-fascists starts to grow. They are not mythic heroes but instead flawed humans struggling for meaning in a time of terror: writers, artists, a fashion designer, a dentist. With skill and passion, Norman Ohler brings these remarkable men and women back to life. The Bohemians is a gift of a book—one I feel a little stronger, a little braver, after reading."—Jason Fagone, author of the best-selling The Woman Who Smashed Codes: A True Story of Love, Spies, and the Unlikely Heroine Who Outwitted America's Enemies "A taut, absorbing tale of anti-Nazi resistance . . . Conveys a sense of immediacy and encroaching terror . . . Sharply drawn characters enliven a tragic history."—Kirkus Reviews   —