The Whole Hole Story (Hardcover)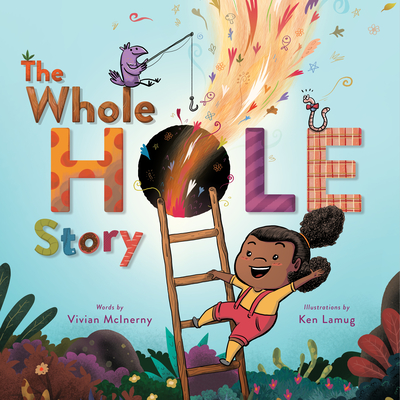 $17.99
Usually Ships in 1-5 Days
Description
---
In Vivian McInerny's playful debut, readers will fall in love with wonder again as Zia imagines what might happen if the hole in her pocket became big enough to fall right through. The Whole Hole Story is perfect for readers looking for a fresh take on the classic Harold and the Purple Crayon.

Zia is used to the hole in her pocket—she frequently fills it with frogs and other objects. And as it gets bigger and bigger, she starts to wonder what might happen . . . if she fell right through. Would she cover it with a blanket to catch an elephant, or dig a tunnel to the other side of the world? The possibilities are endless, and readers will love following Zia's adventurous imagination from beginning to end. 

With hilarious wordplay paired with Ken Lamug's bright and colorful illustrations, The Whole Hole Story will appeal to kids' divine sense of silliness. Perfect for fans of Du Iz Tak?, and They All Saw a Cat.
About the Author
---
Vivian McInerny is a journalist and fiction writer. In pursuit of stories, she's tailed a heart surgeon in the operating room, CEOs in the boardroom, decorators in the bedroom, and countless fashion designers in their showrooms. She's a Fishtrap Fellow and Metropolitan Arts Commission grant recipient for fiction. Her short stories are published in several literary journals. She's a sucker for children, animals, and stories of all sorts.She lives in Portland, Oregon.www.ello.co/vivianmcinerny, Twitter: @VivianMac, Instagram: @VivianMac.
Ken Lamug is an author/illustrator who has created award-winning picture books and graphic novels for all-ages. He is a professional dabbler and has tried everything from beekeeping, filmmaking, 3D printing, photography, coding, and race car driving. Ken was born in the tropical country of the Philippines and currently resides in the desert of Las Vegas, Nevada. www.rabbleboy.com, Twitter: @rabbleboy, Instagram: @rabbleboy
Praise For…
---
★ "McInerny's debut picture book bounces along with the changing waves of a child's fantasies.... [with] a clever, satisfying end and a twist that is sure to put a grin on savvy listeners' faces. This is sure to be a storytime favorite with audiences, and they'll clamor for McInerny's next outing."–Bulletin of the Center for Children's Books, STARRED review

"This charmer of a picture book takes an Alice in Wonderland approach to a young girl's discovery of a hole...A vivacious tribute to creative thinking and play."–Booklist

"Engaging illustrations set bright, cartoon characters against largely pastel backgrounds. The self-made adventure is reminiscent of Harold and the Purple Crayon with its unpredictable, child-controlled narrative in which imagination takes one around the world and back home again....An adventure worth sharing." –Kirkus

"Debut author McInerny [strikes] a genial, why-the-heck-not tone....Lamug (Petro and the Flea King) portrays Zia as a perpetual motion machine....With a charismatic protagonist like this, it's a safe bet that this story probably won't be the last." –Publishers Weekly