Leviathan Wakes (The Expanse #1) (Paperback)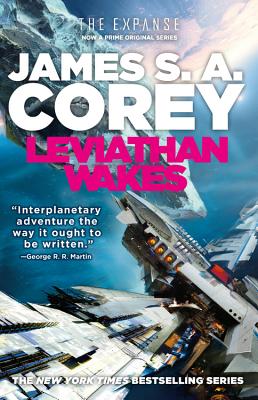 $17.00
Usually Ships in 1-5 Days
Description
---
The first book in the revolutionary NYT bestselling Expanse series, Leviathan Wakes introduces Captain James Holden, his crew, and Detective Miller as they unravel a horrifying solar system wide conspiracy that begins with a single missing girl. Now a Prime Original series.

Leviathan Wakes is James S. A. Corey's first novel in the epic, New York Times bestselling series the Expanse, a modern masterwork of science fiction where humanity has colonized the solar system.

Two hundred years after migrating into space, mankind is in turmoil. When a reluctant ship's captain and washed-up detective find themselves involved in the case of a missing girl, what they discover brings our solar system to the brink of civil war, and exposes the greatest conspiracy in human history.


Leviathan Wakes is the breakneck science fiction adventure that launched the epic bestselling Expanse series.
The Expanse
Leviathan Wakes
Caliban's War
Abaddon's Gate
Cibola Burn
Nemesis Games
Babylon's Ashes
Persepolis Rising
Tiamat's Wrath
The Expanse Short Fiction
The Butcher of Anderson Station
Gods of Risk
The Churn
The Vital Abyss
About the Author
---
James S.A. Corey is the pen name of fantasy author Daniel Abraham and Ty Franck. They both live in Albuquerque, New Mexico. Find out more about this series at www.the-expanse.com.
Praise For…
---
"It's been too long since we've had a really kickass space opera. LEVIATHAN WAKES is interplanetary adventure the way it ought to be written." --- George R.R. Martin
"This is the future the way it was supposed to be." --- The Wall Street Journal
"As close as you'll get to a Hollywood blockbuster in book form." --- io9.com
"An excellent space operatic debut in the grand tradition of Peter F. Hamilton." --- Charlie Stross
"If you like science fiction with great characters and set in real space, you'll enjoy this one." --- Jo Walton, author of Farthing