The Queen of Kentucky (Paperback)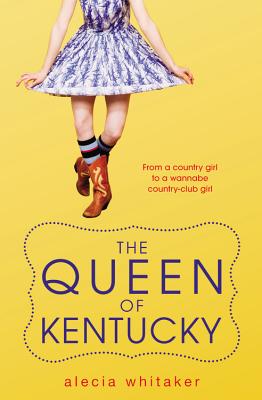 $19.99

Usually Ships in 1-5 Days
Description
---
Fourteen-year-old Kentucky girl Ricki Jo Winstead, who would prefer to be called Ericka,
thank you very much
, is eager to shed her farmer's daughter roots and and fit in with the popular crowd at her small-town high school. She trades her Bible for
Seventeen
magazine, buys new "sophisticated" clothes, and strikes up an unlikely flirtation with the freshman class's resident bad boy. She's on top of the world, even though her best friend and neighbor, Luke, say she misses "plain old Ricki Jo."
Caught between being a country girl and a wannabe country club girl, Ricki Jo begins to forget who she truly is: someone who doesn't care what people think and who wouldn't let a good-looking guy walk all over her.
After a serious incident on Luke's farm, Ricki Jo realizes that being a true friend is more important than being popular... and the one boy who matters most has been next door all along.
About the Author
---
Alecia Whitaker grew up on a small farm in Cynthiana, KY. She is the author of The Queen of Kentucky and the Wildflower series, as well as an actress with appearances on several television programs and commercials. She packs her schedule with school and library visits each year, near or far: www.aleciawhitaker.com/bookings. She currently lives in New York City with her husband and three children.
Praise For…
---
"Reading Alecia Whitaker's funny and sweet debut was like spending time with my best friend. Ricki Jo Winstead totally won me over, and she'll win you over, too."
—
Joanna Philbin, author of The Daughters series
"Whitaker's debut sparkles as she takes the reader on a tour of two unforgettable places: small town Kentucky and the heart of our charming and hilarious narrator, Ricki Jo."
—
Gwendolyn Heasley, author of Where I Belong
"This coming of age romance... will capture readers with its honesty and heart."
—
PW
"Whitaker paints a vivid, finely detailed picture of life in the sometime-hardscrabble heartland. But what draws the reader in is the chaotic precision of her characters, youngsters who are conflicted and frequently inconsistent, yet feel rounded and real... Solid, just like its setting."
—
Kirkus
"Whitaker's setting is fresh, and readers from rural areas will recognize the class differences, especially between new money and farming families. Along with teen concerns like dating, drinking, and cheating, other serious issues are raised... Ericka's first-person voice is sassy and quite believable."
—
Booklist
"Credible teen characters, realistic dialogue, and enough drama to engage reluctant readers."
—
SLJ
"Ericka is forthright and down-to-earth...young readers looking to break out of an old persona into a new one will find both her complaints and her moments of triumph all too familiar. They'll just wish for their own Luke, who clearly wins all awards for best best-friend-turned-boyfriend in a tween novel."
—
BCCB