Schuyler's Monster: A Father's Journey with His Wordless Daughter (Paperback)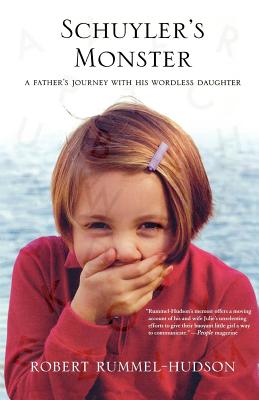 Description
---
When Schuyler Rummel-Hudson was eighteen months old, a question about her lack of speech by her pediatrician set in motion a journey that continues today. When she was diagnosed with bilateral perisylvian polymicrogyria (an extremely rare neurological disorder), her parents were given a name for the monster that had been stalking them from doctor to doctor, and from despair to hope, and back again.

Once they knew why Schuyler couldn't speak, they needed to determine how to help her learn. They took on educators and society to give their beautiful daughter a voice, and in the process learned a thing or two about fearlessness, tenacity, and joy.

More than a memoir of a parent dealing with his child's disability, Schuyler's Monster is a tale of a little girl who silently teaches a man filled with self-doubt how to be the father she needs.
About the Author
---
Robert Rummel-Hudson has been writing online since 1995. During that time, his work has been recognized by the Diarist Awards at diarist.net, including citations for Best Writing (1999), Best Overall Journal (2000), Best Account of a Public or News Event (2001, on the execution of Timothy McVeigh), Best Dramatic Entry (2002), and the Legacy Hall of Fame Award (2004). He has served as a featured panelist at JournalCon, an annual conference for online writers, in 2001, 2003 and 2004.  His online writing has been featured in articles in the Austin Chronicle, the Irish Times and the New Haven Register. Robert and his family live in Plano, Texas.
Praise For…
---
"A gripping explication, shot through with equal parts horror and hope, of how parenthood can turn ordinary people into passionate advocates." —Neal Pollack, author of Alternadad

"Robert Rummel-Hudson is brave enough to reveal the damage the discovery of his child's condition did to his marriage and to his own sense of self. He manages to repair some of the damage through close involvement with Schuyler and vigorous campaigning on her behalf. His memoir is honest, often painful and deeply personal." —Charlotte Moore, author of George & Sam

"The book is engaging and honest - I'm sure it will help many parents who are struggling to find the most loving way to help their children who have 'issues'." —Dana Buchman, designer, author of A Special Education: One Family's Journey Through the Maze of Learning Disabilities

"Rummel-Hudson's memoir offers a moving account of his and wife Julie's unrelenting efforts to give their buoyant little girl a way to communicate." —People magazine

"Relating the battle for his exceptional daughter with nimble wit, ardor and considerable descriptive ability, Rummel-Hudson has evolved from blogger to author." —Kirkus

"…A study not only in Schuyler's vivacious and resilient personality, but also in the redeeming power of understanding…" —Publishers Weekly

"This memoir, full of fear and rage and disappointment and acceptance and advocacy and ferocious love, offers plenty of touchstones for parents who have dealt with diagnoses that are infuriatingly wrong or frighteningly right…." —Terri Mauro, author of The Everything Parent's Guide to Sensory Integration Disorder

"Rummel-Hudson chronicles, with disarming frankness, the experience of parenting a child no one knows how to help." —Brain, Child

"…This story will both compel and inspire readers on their own self-journey." —Texas Family magazine

"We all play the hand that we are dealt in life. Knowing that there are many people like Robert, Julie and Schuyler who play their difficult hand with grit, tenacity and love makes this world a much better place in which to live." —The Citizen, Auburn, New York