The Complete Talking Heads (Paperback)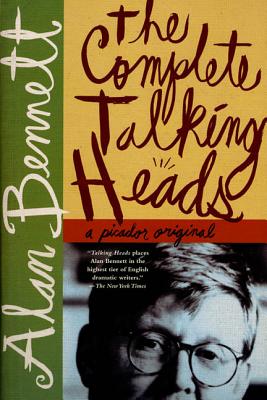 $19.00

Usually Ships in 1-5 Days
Description
---
Alan Bennett's award-winning series of solo pieces is a classic of contemporary drama, universally hailed for its combination of razor-sharp wit and deeply felt humanity. In Bed Among the Lentils, a vicar's wife discovers a semblance of happiness with an Indian shop owner. In A Chip in the Sugar, a man's life begins to unravel when he discovers his aging mother has rekindled an old flame. In A Lady of Letters, a busybody pays a price for interfering in her neighbor's life.

First produced for BBC television in 1988 to great critical acclaim, the Talking Heads monologues also appeared on the West End Stage in London in 1992 and 1998. In 2002, seven of the pieces were performed at the Tiffany Theater in Los Angeles for a highly praised brief engagement, and in 2003 a selection of the monologues premiered in New York at the Minetta Lane Theatre. These extraordinary portraits of ordinary people confirm Alan Bennett's place as one of the most gifted, versatile, and important writers in the English Language.
About the Author
---
Alan Bennett has been one of England's leading dramatists since the success of Beyond the Fringe in the 1960s. His work includes the Talking Heads television series, and the stage plays Forty Years On, The Lady in the Van, A Question of Attribution, and The Madness of King George III. His recent play, The History Boys (now a major motion picture), won six Tony Awards, including best play, in 2006. In the same year his memoir, Untold Stories, was a number-one bestseller in the United Kingdom.
Praise For…
---
"Bennett's genius is his ability to satirize humanely. [His] prose is like stained glass: if you stare at it, you see things you missed." —The New York Times Book Review

"In the hands of Alan Bennett, the tragic and painful are close bedfellow with the funny and the sexual....We laugh at the situations presented and then feel a twinge of guilt." —Los Angeles Times

"Few write sharper dialogue or probe more tellingly into the frailties and occasional strengths of the human psyche than Alan Bennett. No one knows more about getting each scene just right or as consistently." —William Trevor

"Bennett's genius is for the imploding situation in which a cleverly made house of cards shudders and comes down; the comments of his characters as they nimbly pick their way around the wreckage verge on aphorism." —The New Yorker