Madam: The Biography of Polly Adler, Icon of the Jazz Age (Paperback)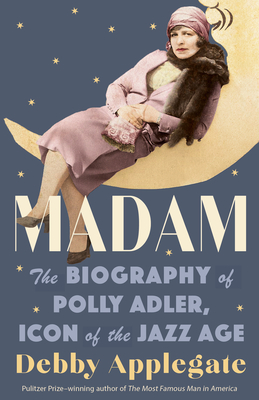 Description
---
The compulsively readable and sometimes jaw-dropping story of the life of a notorious madam who played hostess to every gangster, politician, writer, sports star and Cafe Society swell worth knowing, and who as much as any single figure helped make the twenties roar—from the Pulitzer Prize-winning author of The Most Famous Man in America.

"A fast-paced tale of … Polly's many court battles, newspaper headlines, mobster dealings and society gossip…. A breathless tale told through extraordinary research." —The New York Times Book Review

Simply put: Everybody came to Polly's. Pearl "Polly" Adler (1900-1962) was a diminutive dynamo whose Manhattan brothels in the Roaring Twenties became places not just for men to have the company of women but were key gathering places where the culturati and celebrity elite mingled with high society and with violent figures of the underworld—and had a good time doing it.
 
As a Jewish immigrant from eastern Europe, Polly Adler's life is a classic American story of success and assimilation that starts like a novel by Henry Roth and then turns into a glittering real-life tale straight out of F. Scott Fitzgerald. She declared her ambition to be "the best goddam madam in all America" and succeeded wildly. Debby Applegate uses Polly's story as the key to unpacking just what made the 1920s the appallingly corrupt yet glamorous and transformational era that it was and how the collision between high and low is the unique ingredient that fuels American culture.
About the Author
---
Debby Applegate is a historian whose first book, The Most Famous Man in America: The Biography of Henry Ward Beecher, won the 2007 Pulitzer Prize for biography and was a finalist for the Los Angeles Book Prize and the National Book Critics Circle Award for biography. She is a graduate of Amherst College and was a Sterling Fellow in American Studies at Yale University where she received her Ph.D. and lives in New Haven, Connecticut with her husband, the management writer Bruce Tulgan.

Praise For…
---
"Pearl to Polly, shtetl child to savvy New Yorker, Brooklyn corset factory girl to Manhattan's most notorious brothel owner: Madam: The Biography of Polly Adler, Icon of the Jazz Age, by the Pulitzer Prize-winning biographer Debby Applegate, tells a fast-paced tale of radical, willful transformation. . .Replete with accounts of Polly's many court battles, newspaper headlines, mobster dealings and society gossip, Madam is a breathless tale told through extraordinary research." --The New York Times Book Review

"A biography that is also a story of America bursting into the modern age, with new roles for women, new rules for couples, and parties that flowed into rooms down the hall." --CBS Sunday Morning

"Some of Manhattan's most colorful denizens — from writers and pols to corrupt cops and mobsters — traipsed through the Depression-era brothels run by Polly Adler, the savvy subject of this exuberant history by a Pulitzer-winning biographer. . .'Applegate, armed with formidable skills, may be the biographer who can come closest to revealing her.' " --The New York Times Editors' Choice, Best Books of 2021

"Madam, Debby Applegate's tour de force about Jazz Age icon Polly Adler, will seize you by the lapels, buy you a drink, and keep you reading until the very last page. Applegate's brilliant research and cinematic prose made me feel I was peering over Adler's shoulder, watching her drift through the parlor of her brownstone establishment, wisecracking with the Mob and paying off the cops. Madam is a judicious exploration of the dark side of the American Dream, and Applegate is a lively and knowledgeable guide. A treat for fiction and nonfiction fans alike." --Abbott Kahler, New York Times bestselling author (as Karen Abbott) of The Ghosts of Eden Park

"A vividly detailed social history of Manhattan's netherworld, peopled by gangsters and bootleggers, bookies and racketeers, corrupt policemen and politicians, and a seemingly endless stream of 'working girls.'. . . An animated, entertaining history." --Kirkus Reviews

"In effervescent writing, Applegate chronicles how Adler, after escaping anti-Semitic Russia for New York City in 1913, survived judgmental relatives, sweatshop work, and rape before stumbling into a job procuring women for Nick Montana, 'the Henry Ford of the sex trade'. . .The result is a rollicking examination of one of the country's most sensational hostesses." --Publishers Weekly, starred review

"'[Polly Adler's] wit and charm made her America's most famous queen of vice in the Roaring Twenties—and roar they do in Debby Applegate's fascinating new biography. . .Madam rollicks like no biography has rollicked before." --T.J. Stiles, author of the Pulitzer Prize-winning The First Tycoon and Custer's Trials

"Sometimes notoriety has it all over fame. I lost count of the aliases, the addresses, and the arrests. You can't lose sight of Polly Adler: Whether charming Robert Benchley, discussing abortionists with Tallulah Bankhead, or comping Desi Arnaz, she nearly leaps—116 pounds of hard-boiled chutzpah— from these pages. Adler knew about first-class treatment and gets it in this splendid biography, rich with color, exhaustively researched, and bursting with energy." --Stacy Schiff, Pulitzer Prize-winning author of The Witches and Cleopatra

"In a time when young women were victimized at every turn, Polly Adler told herself she was improving their odds -- and she knew she was improving her own. At last, America's most notorious madam has found the hard-boiled biographer she deserves. Brilliant, witty, meticulously researched, Debby Applegate's Madam is a delicious, beautifully written ride through the nocturnal netherworld of jazz-age Manhattan, right into the heart of what we still call, despite everything, the American dream." --Tom Reiss, Pulitzer Prize-winning author of The Black Count and The Orientalist

"Madam is an astonishing book, a stunning achievement by Debby Applegate who takes the life of Polly Adler, a nice Jewish girl from the Pale of Russia, and uses it to craft a wholly new history of New York in the Jazz Age. . .Applegate names the names, but her thoughtful narrative is not mere exposé but serious history, examining the "dreary mechanics" of the American Dream. Applegate's Madam is a formidable work in both scholarship and just good writing." --Kai Bird, Pulitzer Prize-winning historian and author of The Outlier: The Unfinished Presidency of Jimmy Carter

"I am in awe. With an extraordinary ear for voice and with deep and impeccable research, Debby Applegate has written a scintillating account of the rise (or was it the fall?) of the preeminent bordello keeper of New York's Jazz Age, Polly Adler. . .Madam is an exquisitely crafted, morally inverted rags-to-riches story of an ambitious but impoverished immigrant woman who saw only one path to the top and resolutely followed it. . .Applegate brings us in touch with aspects of human nature that, for good or ill, never seem to change. Polly Adler's early acquaintances were fond of saying, "When a girl falls, she always lands on her back." Debby Applegate's Madam not only lands on its feet; it sticks the landing." --John Matteson, Pulitzer Prize-winning author of Eden's Outcasts: The Story of Louisa May Alcott and Her Father

"Impeccably researched, breathlessly written and full-time fun, Madam tells of the story of a tough little girl from Russia who rises in 1920s New York from prostitution to power in the world's oldest profession. Madam is a marvelous tableau of characters, from regulars and hop heads to millionaires in search of their next girl." --Michael Shnayerson, author of Bugsy Siegel: The Dark Side of the American Dream

"What was a nice girl from an East European shetl doing running an elite Manhattan bordello for more than three decades? Read this book, a stunning blend of scholarship and non-stop sex, to find out!" --William Taubman, Pulitzer Prize-winning author of Khrushchev: The Man and His Era and Gorbachev: His Life and Times

"In Madam, Debby Applegate transports us to the much-mythologized but still unknown world of New York's illicit Jazz-Age sex trade. One part Horatio Alger tale, one part feminist anthem, one part gangster drama, the biography of famed madam Polly Adler straddles the boundaries of legal and illegal, political and personal. In Applegate's hands, it is one swell party." --Beverly Gage, author of The Day Wall Street Exploded
 
"Madam tells a story that is larger than just one life - it is a cultural history of America in the first half of the twentieth century, a country that, like Polly Adler, was overflowing with ambition. . . .Debby Applegate has found the perfect American avatar in Polly Adler, and with Madam, she has more than met the challenge of telling the tale. Madam is a riot." --David Hill, author of The Vapors: A Southern Family, the New York Mob, and the Rise and Fall of Hot Springs, America's Forgotten Capital of Vice

"Debby Applegate infuses her profile of the (in)famous Jazz Age madam Polly Adler with a precision and vitality that resurrect the Manhattan of a century ago in all its manic glory. . .Applegate convincingly evokes the atmosphere and complexities of wildly diverse milieus from muddy shtetls to the raucous pleasures of Coney Island. . .Through her dynamic prose, Applegate accomplishes the most difficult task facing a historian--bringing the past close without ever relinquishing its strange wonder." --Robert Anasi, author of The Last Bohemia and The Gloves

"[Madam] is. . .a hugely digressive book in the best possible way: You meet a lot of gangsters and high rollers in Adler's New York, and they cross paths with novelists, entertainers, professional boxers, and now and then a mayor or a Rockefeller." --Curbed

"Applegate's well written and exhaustively researched biography of Polly Adler offers unique insight into a remarkable immigrant as well as the Roaring '20s." --The New York Journal of Books

"A funny, fascinating look at a madam who set out to become the 'best goddamn Madam in all America.' " --The New York Post