A Consumer's Dictionary of Cosmetic Ingredients, 7th Edition: Complete Information About the Harmful and Desirable Ingredients Found in Cosmetics and Cosmeceuticals (Paperback)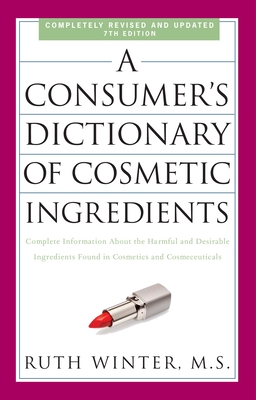 $19.99

Usually Ships in 1-5 Days
Description
---
Everything you need to know about the safety and efficacy of cosmetics and cosmeceuticals.

Is it a cosmetic? A drug? A nutrient? It's becoming more and more difficult to tell the difference with the cosmetic companies combining the three. And unlike with food additives, the FDA has little control over what goes into the products that claim to make you look more beautiful–even though cosmeceuticals (cosmetics that purport to have druglike benefits) have skyrocketed into a multibillion-dollar industry.

So before you slather on that "wrinkle-reducing" cream or swallow a "skin-rejuvenating"vitamin, find out what's in your health and beauty products with A Consumer's Dictionary of Cosmetic Ingredients. This updated and expanded edition gives you the facts you need to protect yourself and your family from possible irritants, confusing chemical names, and the exaggerated claims of gimmicky additives. With 800 new ingredients found in toiletries, cosmetics, and cosmeceuticals–everything ranging from shampoo to shaving cream, bath lotions to Botox–this alphabetically organized guide evaluates them all, and includes targeted information for children and for people of color.

A Consumer's Dictionary of Cosmetic Ingredients is more indispensable than ever to anyone who cares about the health of themselves and their loved ones.
About the Author
---
RUTH WINTER, M.S., is an award-winning author of thirty-seven books. Visit her at BrainBody.com or IngredientBlog.blogspot.com.