Rave On: Global Adventures in Electronic Dance Music (Paperback)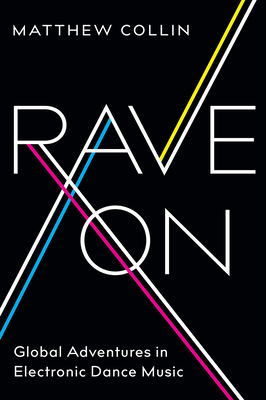 $20.00
Usually Ships in 1-5 Days
Description
---
Peace, Love, Unity, and Respect. Cultural liberation and musical innovation. Pyrotechnics, bottle service, bass drops, and molly.

Electronic dance music has been a vital force for more than three decades now, and has undergone transformation upon transformation as it has taken over the world. In this searching, lyrical account of dance music culture worldwide, Matthew Collin takes stock of its highest highs and lowest lows across its global trajectory. Through firsthand reportage and interviews with clubbers and DJs, Collin documents the itinerant musical form from its underground beginnings in New York, Chicago, and Detroit in the 1980s, to its explosions in Ibiza and Berlin, to today's mainstream music scenes in new frontiers like Las Vegas, Shanghai, and Dubai. Collin shows how its dizzying array of genres—from house, techno, and garage to drum and bass, dubstep, and psytrance—have given voice to locally specific struggles. For so many people in so many different places, electronic dance music has been caught up in the search for free cultural space: forming the soundtrack to liberation for South African youth after Apartheid; inspiring a psychedelic party culture in Israel; offering fleeting escape from—and at times into—corporatization in China; and even undergirding a veritable "independent republic" in a politically contested slice of the former Soviet Union.

Full of admiration for the possibilities the music has opened up all over the world, Collin also unflinchingly probes where this utopianism has fallen short, whether the culture maintains its liberating possibilities today, and where it might go in the future.
 
About the Author
---
Matthew Collin is a British journalist and the author of Altered State. He has served as an editor for i-D magazine and the Time Out website, and as a foreign correspondent for the BBC and Al Jazeera, and his articles have appeared in the Guardian, the Observer, Mixmag, and the Wire, among others.
Praise For…
---
"Here are ten x-rays of dance culture in ten global hotspots that lovingly trace the history of each locale's sound through its DJs, promoters and proponents . . . . Both scholarly and intimate . . . . Collin's quest is never short of illuminating."
— Observer

"A surprisingly rich and resonant analysis of global dance culture. . . . With a DJ's skill for the emotive build and drop, [Collin] deftly organizes these essays to illuminate club culture's role in saving cities from bland gentrification; the health of the underground speaking volumes about the health of the society above."
— Sunday Times

"Fabulous. . . . One of the sharpest books on the topic I've read."
— Michaelangelo Matos, author of The Underground is Massive: How Electronic Dance Music Conquered America