Blackstone's Statutes on Employment Law 2016-2017 (Paperback)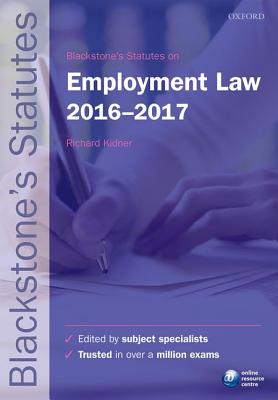 Description
---
Blackstone's Statutes have an unrivalled tradition of trust and quality, and a rock-solid reputation for accuracy, reliability, and authority. Content is extensively reviewed to ensure a close map to courses. Blackstone's Statutes lead the market: consistently recommended by lecturers and relied on by students for exam and course use. Each title is:
- Trusted: ideal for exam use
- Practical: find what you need instantly with a new tab system to aid navigation
- Reliable: current, comprehensive coverage
- Relevant: content reviewed to match your course Visit www.oxfordtextbooks.co.uk/orc/statutes/ for accompanying online resources, including video guides to reading and interpreting statutes, web links, exam tips, and an interactive sample Act of Parliament.
About the Author
---
Richard Kidner, Emeritus Professor of Law, Aberystwyth University Richard Kidner is Emeritus Professor of Law at Aberystwyth University. His research interests include tort, labour law, and jurisdiction under the Brussels Convention.