Charles Dickens: A Life (Paperback)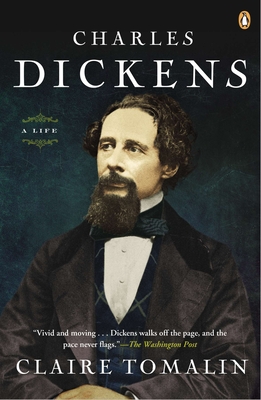 Description
---
Award-winning Claire Tomalin, author of A Life of My Own, sets the standard for sophisticated and popular biography, having written lives of Jane Austen, Samuel Pepys, and Thomas Hardy, among others. Here she tackles the best recognized and loved man of nineteenth-century England, Charles Dickens; a literary leviathan whose own difficult path to greatness inspired the creation of classic novels such as Great Expectations, David Copperfield, Oliver Twist, and Hard Times.

From his sensational public appearances to the obsessive love affair that led him to betray, deceive, and break with those closest to him, Charles Dickens: A Life is a triumph of the biographer's craft, a comedy that turns to tragedy in a story worthy of Dickens' own pen.
About the Author
---
CLAIRE TOMALIN worked in publishing and journalism for many years. She was literary editor first of the New Statesman and then the Sunday Times, before devoting herself to writing full time. She is the author of eight highly acclaimed biographies including Thomas Hardy, The Invisible Woman: The Story of Nelly Ternan and Charles Dickens, and Samuel Pepys: The Unequalled Self, which was the 2002 Whitbread Book of the Year. She lives in England with her husband, Michael Frayn.
Praise For…
---
"As Claire Tomalin demonstrates in her vivid and moving new biography, Dickens's own life was rich in the attributes we call "Dickensian" — shameless melodrama, gargantuan appetites, reversals of fortune... To encompass this frenzy, Tomalin keeps the story racing. She brings Dickens to life in all his maddening contradictions... Dickens walks off the page, and the pace never flags. Tomalin accomplishes this resurrection in a mere 417 pages of text, supplemented by dozens of illustrations, several maps of Dickens's London and a helpful dramatis personae... if you plan to read only one biography of the most popular Victorian writer, it should be this one."
--THE WASHINGTON POST

"Enormously ambitious... admirable... warmly sympathetic and often eloquent."
--Joyce Carol Oates, THE NEW YORK REVIEW OF BOOK

"Clear-eyed, sympathetic and scholarly, she spreads the whole canvas, alive with incident and detail, with places and people. She writes of publishers, illustrators, collaborators and all Dickens's intersecting circles of friends and family. It is wonderfully done."
--THE ECONOMIST

"[A] splendid history… Tomalin skillfully presents the chief trauma of Dickens' young life — being sent to work in a factory at age 12, after his father was imprisoned for debt — and suggests the ways it left a lasting mark, from his sympathy for the working class to his towering ambition and herculean work ethic."
--SEATTLE TIMES

"[O]nward-driving, hypnotically vivid… the result of Claire Tomalin's unrivalled talent for telling a story and keeping a reader enthralled: long as the book is, I wanted more."
--THE GUARDIAN (UK)