Bound for Oregon (Paperback)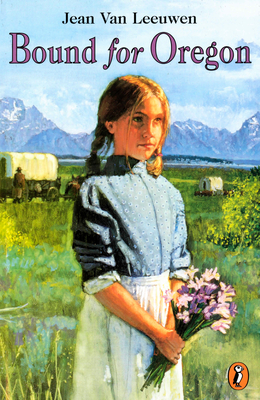 $6.99

Usually Ships in 1-5 Days
Description
---
"Basing her story on the published accounts of her true-life heroine, Mary Ellen Todd, Van Leeuwen describes a family's tumultuous journey along the Oregon Trail in 1852." --Publishers Weekly

With only a guide book to show them the way, the Todd family sets out from their Arkansas home on a two thousand mile trek to claim unchartered Oregon Territory. Crossing rough terrain and encountering hostile people, the Todds show their true pioneering spirit. But as winter draws near, will the Todds have the strength to complete their journey? And if they make it, will Oregon fulfill their dreams?

"This is a convincing picture of a pioneer journey that does a good job of showing the tremendous sacrifices people made to follow their dream of a better life." –School Library Journal
About the Author
---
Jean Van Leeuwen is the author of more than fifty children's books, including picture books, Easy-to-Read books, and middle-grade fiction. She has won numerous awards, among them the William Allen White Award, the South Carolina Children's Book Award, the Massachusetts Honor Book Award, and the Washington Irving Children's Choice Award, as well as many ALA Notable Book citations.

Her own two children were the inspiration for the Oliver and Amanda Pig stories, as well as several others, including Dear Mom, You're Ruining My Life. Many of her other books have grown out of her long-time interest in American history. Her historical picture books include Going West, which was cited as an IRA Teachers' Choice and Across the Wide Dark Sea, selected by the New York Public Library as one of the "100 Titles for Reading and Sharing." She has written historical fiction for older readers as well. Her Bound for Oregon was a Child Study Association Book of the Year, and Cabin on Trouble Creek was nominated for children's Choice awards in eight states. 

Ms. Van Leeuwen now lives in another small town north of New York City with her husband, Bruce Gavril. She has two grown children, David and Elizabeth, and a young grandchild, who will surely inspire more stories.
Praise For…
---
"Basing her story on the published accounts of her true-life heroine, Mary Ellen Todd, Van Leeuwen describes a family's tumultuous journey along the Oregon Trail in 1852....The contrast between the tenderness of Mary Ellen's perceptions and the hardships of the frontier is deeply moving." --Publishers Weekly
 
"This is a convincing picture of a pioneer journey that does a good job of showing the tremendous sacrifices people made to follow their dream of a better life." –School Library Journal

"The appealing narrator, the forthright telling, and the concrete details of life along the Oregon Trail will draw readers into the story." –Booklist