The Watchmaker's Daughter: The True Story of World War II Heroine Corrie ten Boom (Hardcover)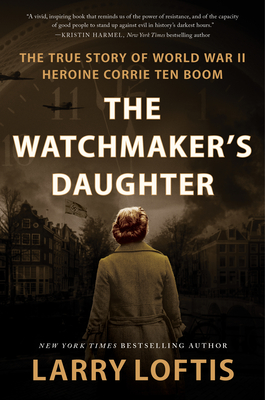 Description
---
INTERNATIONAL BESTSELLER
New York Times bestselling author and master of nonfiction spy thrillers Larry Loftis writes the first major biography of Corrie ten Boom, a Dutch watchmaker who saved the lives of hundreds of Jews during WWII—at the cost of losing her family and being sent to a concentration camp, only to survive, forgive her captors, and live the rest of her life as a Christian missionary.
The Watchmaker's Daughter is one of the greatest stories of World War II that readers haven't heard: the remarkable and inspiring life story of Corrie ten Boom—a groundbreaking, female Dutch watchmaker, whose family unselfishly transformed their house into a hiding place straight out of a spy novel to shelter Jews and refugees from the Nazis during Gestapo raids. Even though the Nazis knew what the ten Booms were up to, they were never able to find those sheltered within the house when they raided it.
Corrie stopped at nothing to face down the evils of her time and overcame unbelievable obstacles and odds. She persevered despite the loss of most of her family and relied on her faith to survive the horrors of a notorious concentration camp. But even more remarkable than her heroism and survival was Corrie's attitude when she was released. Miraculously, she was able to eschew bitterness and embrace forgiveness as she ministered to people in need around the globe. Corrie's ability to forgive is just one of the myriad lessons that her life story holds for readers today.
Reminiscent of Schindler's List and featuring a journey of faith and forgiveness not unlike Unbroken, The Watchmaker's Daughter is destined to become a classic work of World War II nonfiction.
About the Author
---
Larry Loftis is the New York Times, Wall Street Journal, USA Today, and international bestselling author of four nonfiction spy thrillers: The Watchmaker's Daughter; The Princess Spy; Code Name: Lise; and Into the Lion's Mouth. A two-time winner of the Florida Book Award, his books have been translated into numerous languages and can be found in Spain, Portugal, Netherlands, Italy, Serbia, Czech Republic, Taiwan, India, Australia, New Zealand, Russia, and throughout the UK. Before becoming a full-time writer, Larry was an AV-rated corporate attorney and adjunct professor of law. He received his undergraduate and law degrees from the University of Florida, where he served on the Law Review as the Senior Executive Editor and Senior Articles Editor.  
Praise For…
---
"Mr. Loftis has greatly enriched the ten Boom story with well-researched additional material . . . Corrie ten Boom's indomitable faith in the face of evil was extraordinary, and The Watchmaker's Daughter recounts a story that deserves to be remembered." — Wall Street Journal
"An inspiring World War II story of courage and daring. ... Loftis deftly interweaves ten Boom's compelling tale with of two young women living just miles away—Anne Frank and Audrey Hepburn—to drive home the peril, grief, and spirit of resistance that surged through the occupied Netherlands. A well-researched, vivid, inspiring book that reminds us both of the power of resistance, and of the capacity of good people to stand up against evil in history's darkest hours." — Kristin Harmel, New York Times bestselling author of The Forest of Vanishing Stars
"Like Larry Loftis's other bestsellers, The Watchmaker's Daughter brims with intrigue, derring-do, and narrative thrills. Corrie is a heroine for the ages: brave, intelligent, and shining with a spiritual light that never falters, even in the darkest of times." — Neal Bascomb, New York Times bestselling author of Faster and The Winter Fortress
"Astounding ... An intimate, detailed portrait ... The extraordinary bravery of Corrie ten Boom is eclipsed only by her ability to find faith and hope in utter darkness. Perfect for readers of biography and history." — Booklist
"The courageous life and deep religious faith of WWII Dutch resistance member Corrie ten Boom are recounted in this immersive biography from bestseller Loftis (The Princess Spy). ... A well-researched and often captivating portrait of a remarkable woman." — Publishers Weekly
 "Loftis, bestselling author of nonfiction spy thrillers, ... turns up diaries and letters from others in ten Boom's circle as well as a trove of photographs that enable him to tell a detailed, moving story. ... A story of unbelievable suffering and courage that deserves to be told." — Kirkus Reviews
"A haunting and inspiring tale of moral courage." — Library Journal
"Larry Loftis pays long-overdue homage to one of the great women of the 20th (or any) century . . . Loftis successfully brings Corrie ten Boom to a new generation, skillfully and aptly providing daily happenings, lively dialogue and inner thought to this well-researched history. Her achievements and courage as arrayed by Loftis will offer hope and a renewed sense of resolve to all who labor in good cause." — Bookreporter
"Through impeccable research and exquisite attention to detail, Larry Loftis brings readers the incredible true story of Corrie ten Boom, the first licensed female watchmaker in Holland, who risked everything to provide sanctuary for Jews and refugees during Nazi occupation in World War II. The Watchmaker's Daughter is an emotional and inspiring account of resistance that ultimately offers lessons in the power of faith and forgiveness, and reminds us all that out of darkness comes light."   — Jack Carr, Navy SEAL Sniper and #1 New York Times bestselling author of The Terminal List  
"Larry Loftis has written a compelling account of the The Watchmaker's Daughter, Corrie ten Boom, who survived the horrors of the WWII concentration camp. The persecution Corrie endured led her to thank the Lord for turning a prison cell into God's training school. Such is the miraculous power of Jesus Christ." — Rev. Franklin Graham
"Like a skilled archaeologist, Larry unearths little-known fragments of Corrie Ten Boom's story. By mining everything from historical records to family mementos, he's exposed fresh facets of Corrie's remarkable ministry. If you loved The Hiding Place, read this book!" — Jim Daly, President, Focus on the Family
"This remarkable biography shows the true power of forgiveness and inspires readers to keep the faith." — Woman's World
"The Hiding Place is an unforgettable book, the story of quiet, determined, and faith-based heroism by an otherwise unassuming middle-aged Dutch woman. Larry Loftis's new release, The Watchmaker's Daughter, greatly expands her story and is the first major biography of Corrie ten Boom." — Jewish Journal