Grow Up: Becoming the Parent Your Kids Deserve (Hardcover)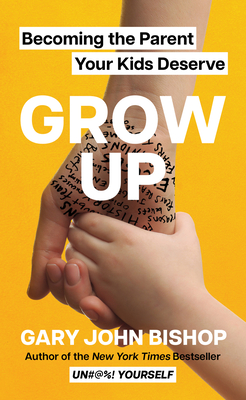 Description
---
The New York Times bestselling author of Unfu*k Yourself helps cut through our anxieties about being a "good parent" so we can take charge of our lives and show our kids how to take charge of their own.
Gary John Bishop has helped millions of people break free of self-sabotaging behaviors. Yet we all seem to feel like we're failing at this thing called parenting. Common wisdom isn't working—our kids are struggling. Gary argues we don't need more tips, tricks, and techniques, we need an overhaul of who we are. We're never going to measure up to the "perfect parent" model we've built up in our heads—a Frankenstein version of mom and dad cobbled together from our childhoods, our parents, cultural ideals, social media, and everything in between.
We want to be good parents, but our pasts hold us back. If you're thinking: "I can't be a good parent because I had a shitty childhood, bad parents, or a traumatic experience"—stop! Let go of what came before and start taking action in the present to be the person that nurtures their child from a place of love, forgiveness, and integrity. By doing so, you are modeling and equipping your kids to confidently face the world and thrive.
Whether you are a parent, want to be a parent, or simply have parents, this book will cut to the heart of who you are and how you show up in the world—to fully take charge of the direction of your life and show your kids how to follow theirs.
About the Author
---
Gary John Bishop is a leading personal development expert and the New York Times bestselling author of Unfu*k Yourself, Stop Doing that Sh*t, Do the Work, Wise As Fu*k, and Love Unfu*ked. His "urban philosophy" approach represents a new wave of personal empowerment and life mastery that has led to miraculous results in the quality and performance of people's lives. He lives in Florida.
Praise For…
---
"Bishop successfully distills his wisdom into incisive and punchy lessons… and those who don't mind his salty prose … will learn plenty. Parents seeking a new approach should give this a go."  — Publisher's Weekly