Colombiana: A Rediscovery of Recipes and Rituals from the Soul of Colombia (Hardcover)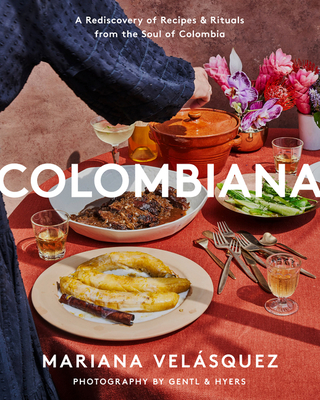 $32.50

Usually Ships in 1-5 Days
Description
---
NAMED ONE OF THE BEST COOKBOOKS OF THE YEAR BY REAL SIMPLE
"I have never read a more passionate and heartfelt expression of Colombian culture and cuisine in English. I've been waiting for years for a book like this to come out." –J. Kenji López-Alt, New York Times bestselling author of The Food Lab
A recipe developer and food stylist—whose work has taken her across the globe to work with clients like Michelle Obama and into the test kitchens of today's most esteemed culinary publications—pays homage to her native country with this vibrant, visually stunning cooking, the first dedicated solely to Colombian food, featuring 100 recipes that meld the contemporary and the traditional.
To Mariana Velásquez, a native of Bogotá, the diverse mix of heritages, cultures, and regions that comprise Colombian food can be summed up in one simple concept: More is more. No matter what rung of society, Colombians feed their guests well, and leave them feeling nourished in body and soul. 
In Colombiana, the award-winning recipe developer and food stylist draws on the rich culinary traditions of her native land and puts her own modern twist on dishes beloved by generations of Colombians. Here are recipes for classics such as arepas and empanadas, as well as "Colombian-ish" recipes like Lomito de Cerdo al Tamarindo y Menta (Tamarind Pork Tenderloin with Mint), Gazpacho de Papaya y Camarón Tostado (Spicy Papaya and Charred Shrimp Gazpacho), and Cuchuco de Trigo con Pollito y Limón (Lemony Bulgur Farmer's Chicken Soup). 
In addition to offering a unique perspective on Colombian food, Mariana shares the vibrant style of Colombian tablescapes and entertaining. For her, the best meals are never simply about the food on the table—they are an alchemy of atmosphere, drinks, and simple snacks and sweets that complete the experience and make it memorable.
Rich with culture and stories as well as one-of-a-kind recipes and stunning photography, Colombiana is a gastronomic excursion that reminds us of the power of food to keep tradition alive.
About the Author
---
Mariana Velásquez is an international food stylist/artist and chef. Her work has been featured in the New York Times, Vogue, Food & Wine, Bon Appetit, and Gourmet, to name a few. A published author of three recipe books, she has also styled, art directed, developed recipes and collaborated on more than twenty cookbooks throughout her career. She collaborated on two books that received James Beard Book Awards. First Lady Michelle Obama hired Mariana to style the First Lady's "American Grown" project. Born in Bogotá, Mariana lives in Brooklyn, NY with her husband.
Praise For…
---
"I have never read a more passionate and heartfelt expression of Colombian culture and cuisine in English. I've been waiting for years for a book like this to come out." — J. Kenji López-Alt, new york times< em> bestselling author of the food labthenew
"Colombiana captures the amazing flavors of her Natal Colombia, but seen through Mariana's eyes, you can feel and taste the flavors as much as her love and pasión for her culture, sazon and traditions. I want to eat and cook everything in this book." — Chef Lorena Garcia
"Velásquez, a cook, food stylist, and recipe developer, pays tribute to the food of her birthplace in this rich and vibrant collection. . . . For home cooks in search of a primer on Colombian food and culinary tradition, Velásquez is the ideal tutor." — Publishers Weekly
"The heart of the book fulfills all sorts of taste cravings. . . A celebration of flavor." — Booklist (starred review)
"An inviting cookbook from a chef on the rise. Home cooks new to Colombian cuisine will be engaged by Velásquez's welcoming voice and varied menu options." — Library Journal