The Martian Chronicles (Paperback)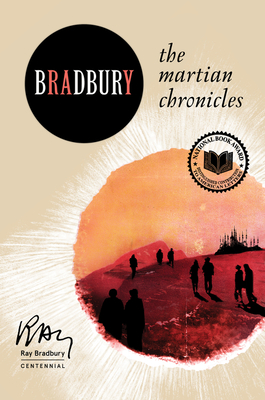 $15.99
Usually Ships in 1-5 Days
Description
---
Ray Bradbury's The Martian Chronicles is a must-read for any fan of science fiction or fantasy, a crucial precursor to films like Avatar and Alien and books like Kim Stanley Robinson's Red Mars and Dan Simmons' Hyperion, and a haunting prophesy of humanity's destiny to bring our old dreams and follies along with us wherever we may venture forth.
Soar above the fossil seas and crystal pillars of a dead world in the pages of Ray Bradbury's The Martian Chronicles. A milestone of American literature, Bradbury's classic collection of interconnected vignettes about life on the red planet diverges from the War of the Worlds theme, in which humanity must defend its shores against its neighbors, for in Bradbury's prismatic vision, humanity is the conqueror, colonizing Mars to escape an Earth devastated by atomic war and environmental catastrophe.
About the Author
---
In a career spanning more than seventy years, Ray Bradbury, who died on June 5, 2011 at the age of 91, inspired generations of readers to dream, think, and create. A prolific author of hundreds of short stories and close to fifty books, as well as numerous poems, essays, operas, plays, teleplays, and screenplays, Bradbury was one of the most celebrated writers of our time. His groundbreaking works include Fahrenheit 451, The Martian Chronicles, The Illustrated Man, Dandelion Wine, and Something Wicked This Way Comes. He wrote the screen play for John Huston's classic film adaptation of Moby Dick, and was nominated for an Academy Award. He adapted sixty-five of his stories for television's The Ray Bradbury Theater, and won an Emmy for his teleplay of The Halloween Tree. He was the recipient of the 2000 National Book Foundation Medal for Distinguished Contribution to American Letters, the 2004 National Medal of Arts, and the 2007 Pulitzer Prize Special Citation, among many honors.
Throughout his life, Bradbury liked to recount the story of meeting a carnival magician, Mr. Electrico, in 1932. At the end of his performance Electrico reached out to the twelve-year-old Bradbury, touched the boy with his sword, and commanded, "Live forever!" Bradbury later said, "I decided that was the greatest idea I had ever heard. I started writing every day. I never stopped."