Dance Hall of the Dead CD Low Price (CD-Audio)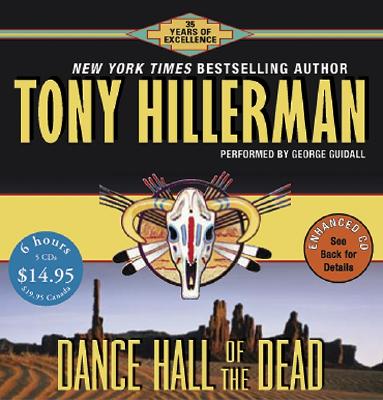 Description
---
Two Native-American boys have vanished into thin air, leaving a pool of blood behind them. Lieutenant Joe Leaphorn of the Navajo Tribal Police has no choice but to suspect the very worst, since the blood that stains the parched New Mexican ground once flowed through the veins of one of the missing, a young Zuni. But his investigation into a terrible crime is being complicated by an important archaeological dig ... and a steel hypodermic needle. And the unique laws and sacred religious rights of the Zuni people are throwing impassable roadblocks in Leaphorn's already twisted path, enabling a craven murderer to elude justice ... or, worse still, to kill again.
Performed by George Guidall
Enhanced CD:
CD features an interactive program which can be viewed on your computer, including: a photo galary, an author Q&A and a 35 years of excellence timeline.
About the Author
---
TONY HILLERMAN served as president of the Mystery Writers of America and received the Edgar and Grand Master Awards. His other honors include the Center for the American Indian's Ambassador Award, the Spur Award for Best Western Novel, and the Navajo Tribal Council Special Friend of the Dineh award. A native of Oklahoma, Tony Hillerman lived in Albuquerque, New Mexico, until his death in 2008.
George Guidall is one of the foremost narrators in the audiobook industry, having recorded over 500 unabridged books ranging from classics to contemporary bestsellers. He is the recipient of the 1999 Audie Award presented by the Audio Publishers Association for the best narration of unabridged fiction.