Diary of a Spider (Hardcover)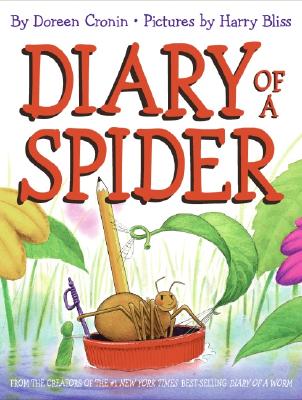 Description
---
#1 New York Times Bestseller!
This hilarious picture book from the bestselling, acclaimed author-illustrator team of Doreen Cronin and Harry Bliss tells the adventures of a spider through his daily diary entries.
This is the diary . . . of a spider. Actually, he's a lot like you. He goes to gym class and has Grandparents Day at school. But he also spins sticky webs, scales walls, and takes wind-catching lessons. Lucky for him, his best friend is a fly!
Read the other books in the series: Diary of a Worm and Diary of a Fly!
About the Author
---
Doreen Cronin is the New York Times bestselling author of Diary of a Worm, Diary of a Spider, and Diary of a Fly, as well as Click, Clack, Moo: Cows That Type, a Caldecott Honor Book, and Giggle, Giggle, Quack. She lives in Brooklyn, New York, with her husband and their daughters.
New York Times bestselling artist Harry Bliss is a cartoonist and cover artist for the New Yorker magazine. He is the author and illustrator of Bailey and Luke on the Loose and the illustrator of A Fine, Fine School by Sharon Creech, Which Would You Rather Be? by William Steig, Diary of a Worm by Doreen Cronin, and Louise, The Adventures of a Chicken by Kate DiCamillo. His self-titled single panel gag cartoon Bliss appears in newspapers internationally. He lives in New Hampshire. You can visit him online at www.harrybliss.com.